Here's five of the eleven: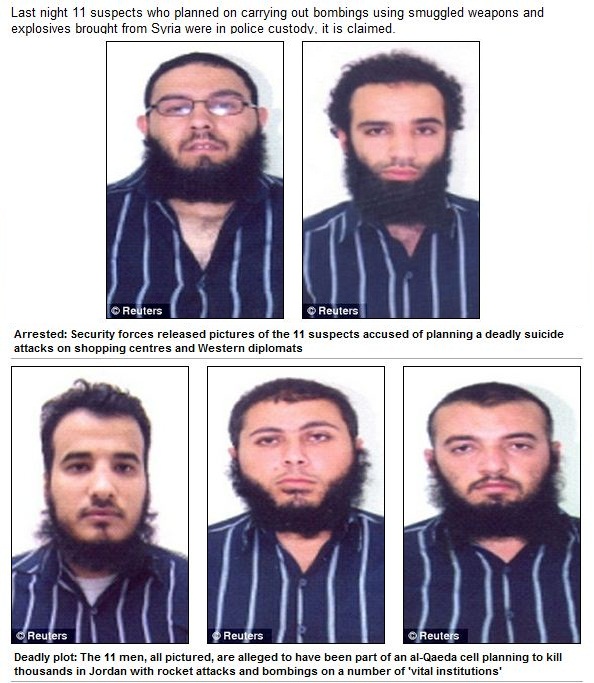 Security forces foil al-Qaeda terrorist plot codenamed '9/11 the second' that planned to kill thousands with suicide attacks on shopping centres in Jordan
Al-Qaeda plot hatched since June targeted shopping centres and Western diplomats

Alleged conspirators codenamed attack '9/11 the second'

Suspects had detonated trial explosives, according to security sources

Terrorists 'planned to fire rockets' at U.S. and British diplomats in Jordan

Security service have arrested 11 suspects in connection with the plot

Large quantities of ammunition, machine guns and other items such as computers seize

Militants were 'training to use suicide bomber with explosive belts and booby-trapped cars', say security sources
By DAILY MAIL REPORTER
PUBLISHED: 19:09 GMT, 21 October 2012 | UPDATED: 06:16 GMT, 22 October 2012
A deadly terrorist attack designed to kill thousands which had been codenamed '9/11 the second' by plotters has been foiled by Jordanian security forces, it was claimed tonight.
Authorities say the al-Qaeda cell wanted to inflict 'the heaviest human losses possible' with coordinated suicide strikes on shopping centres and Western diplomats in the country's capital capital Amman.

Last night 11 suspects who planned on carrying out bombings using smuggled weapons and explosives brought from Syria were in police custody, it is claimed.
Had the plot come to fruition, the death toll could have reached thousands and destabalised the country's security and had been going on since June.
But intelligence agencies had been monitoring the conspiracy from day one, Jordanian official said.