Anyone expecting peaceful cohabitation with these nut-jobs has another thing coming. They are either convinced of their apparent doom, or they are at your throats, it's a sad revelation, but that's the state of affairs in a part of the world that favors top down rule and run by Islam. I mean, just what don't you understand about a people so willingly able to give sieg heils in mass numbers in the middle of their streets?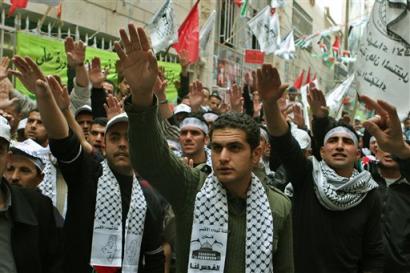 Fatah: Palestinians have not abandoned armed struggle
By KHALED ABU TOAMEH
10/08/2012 23:31
Member of Fatah Central Committee Aloul says "no one has dropped armed resistance from his dictionary," points out Fatah political program has reaffirmed "resistance is legitimate right against occupation."
The Palestinians have not abandoned the option of armed struggle against Israel, a top Fatah official in the West Bank said on Monday.
Mahmoud Aloul, a member of the Fatah central committee and former Palestinian Authority governor of Nablus, said that although the Palestinians have agreed to launch a "popular resistance against occupation, no one has dropped the armed resistance from his dictionary." Aloul's comments were made during an interview with the private Watan TV station in the West Bank.