It was Pallywood tactics all over again, as this Palestinian UN staff member tweets an old picture of an Arab child covered in blood, as a victim in a recent IAF airstrike. But what's not news here, is the fact that the UN continually serves as a staging ground for all kinds of propaganda attacks on the Jewish state. This is just one instance in a long line of many.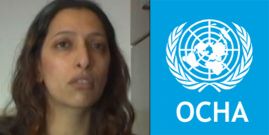 UN completes probe into false tweet about Gaza
By STEWART STOGEL, SPECIAL TO THE JERUSALEM POST
10/09/2012 02:08
Findings not yet released after completion of investigation into tweet of photo falsely claiming Palestinian killed by IDF.
NEW YORK — The United Nations coordinator for humanitarian affairs, Valerie Amos, has confirmed to The Jerusalem Post that the investigation into a controversial Twitter posting by its staff member Khulood Badawi has been completed.
In March, Badawi, an information officer for the UN's Office for the Coordination of Humanitarian Affairs in Jerusalem, tweeted a photo of a Palestinian child covered in blood and falsely claimed she was killed by an IDF strike.
Badawi tweeted the following text along with the photo: "Palestine is bleeding. Another child killed by Israel… Another father carrying his child to a grave in Gaza."
The picture, it emerged, was published in 2006 by Reuters and was of a Palestinian girl who died in an accident unrelated to Israel.
A subsequent investigation was launched by the UN Development Program, which held Badawi's contract for employment, even though she worked for OCHA.
Amos did not release details on the investigation's findings, stating that she was awaiting recommendations from UNDP.
Israel's UN mission had no immediate reaction.