Mirror images of the other
And deep down, both being socialists, if either were a citizen of each other's country, yes, they would be casting their vote for the statist.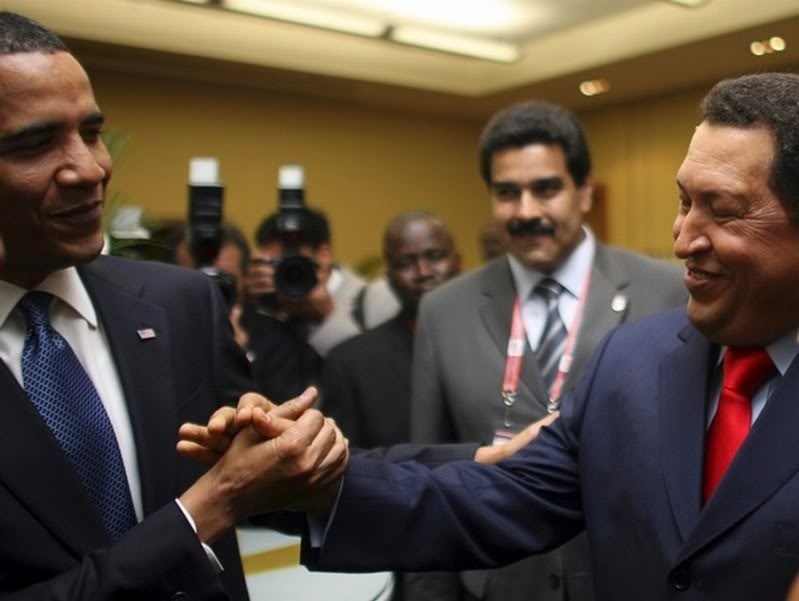 Chavez to Obama: I'd vote for you, and you for me
Sun Sep 30, 2012 1:33pm EDT
By Helen Murphy
CARACAS, Sept 30 (Reuters) – With both presidents facing tight re-election fights, Venezuela's Hugo Chavez gave a surprise endorsement to Barack Obama on Sunday – and said the U.S. leader no doubt felt the same.
"I hope this doesn't harm Obama, but if I was from the United States, I'd vote for Obama," the socialist Chavez said of a man he first reached out to in 2009 but to whom he has since generally been insulting.
Chavez is running for a new six-year term against opposition challenger Henrique Capriles, while Obama seeks re-election in November against Republican candidate Mitt Romney. Venezuela's election is next weekend.
"Obama is a good guy … I think that if Obama was from Barlovento or some Caracas neighborhood, he'd vote for Chavez," the president told state TV, referring to a poor coastal town known for the African roots of its population.