Yes I know, it's been that way ever since I can remember, but it shouldn't be. Taking off one's shoes suffices for the showing of "respect" aspect of visiting a mosque, a non-Muslim female donning the hijab would be the same as if a non-Jewish male would be forced to place a prayer shawl on top of his head that already has a yarmulke. That's something which no Rabbi would ever demand, let alone expect a non-Jew to do. But Islam demands much more from their dhimmis.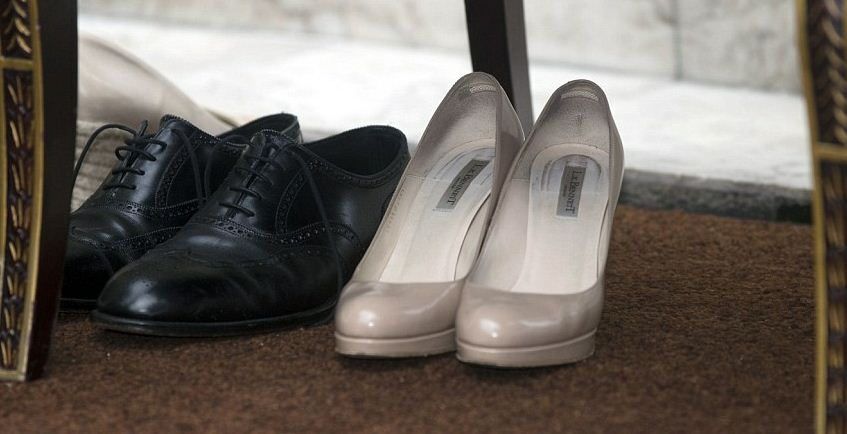 Evoking memories of Diana: Kate makes first visit to mosque – and wears veil and attire like her mother-in-law wore 20 years earlier
Pair visited Assyakirin Mosque, the biggest in Malaysia which can host 12,000 for Friday prayers

Royal couple take off their shoes at mosque in sign of respect

Couple have taken time to swot up on

 

Islamic art and culture

Thousands gather to welcome couple to city centre park

Kate meets shoe designer Jimmy Choo at very British tea party


Duchess appears determined not to let strain of topless picture revelations show
By REBECCA ENGLISH, ROYAL CORRESPONDENT IN KUALA LUMPUR
PUBLISHED: 04:16 GMT, 14 September 2012 | UPDATED: 10:14 GMT, 14 September 2012
The Duchess of Cambridge evoked memories of Princess Diana this morning as she and Prince William made their first ever visit to a mosque.
Kate echoed her late mother-in-law in a pale grey dress by Beulah London with a draped head scarf. The ethical label is run by the couple's close friend Lady Natasha Rufus Isaacs.
As she stepped out of her official car the 30-year-old royal was ushered to a chair to kick off her £185 nude LK Bennett heels, displaying her stockinged feet in line with religious protocol.