There needs to be the re-institution of the quota system. Unfettered immigration, especially to a welfare state society is state suicide. In the end it's the taxpayers who are being shackled to the unfair burden of propping up big statist government entitlement policies.
Some of the women will have been born abroad and settled in the UK but a number will have visited just to use the NHS. Health tourism, including maternity care, is believed to be costing the NHS around £200 million per year.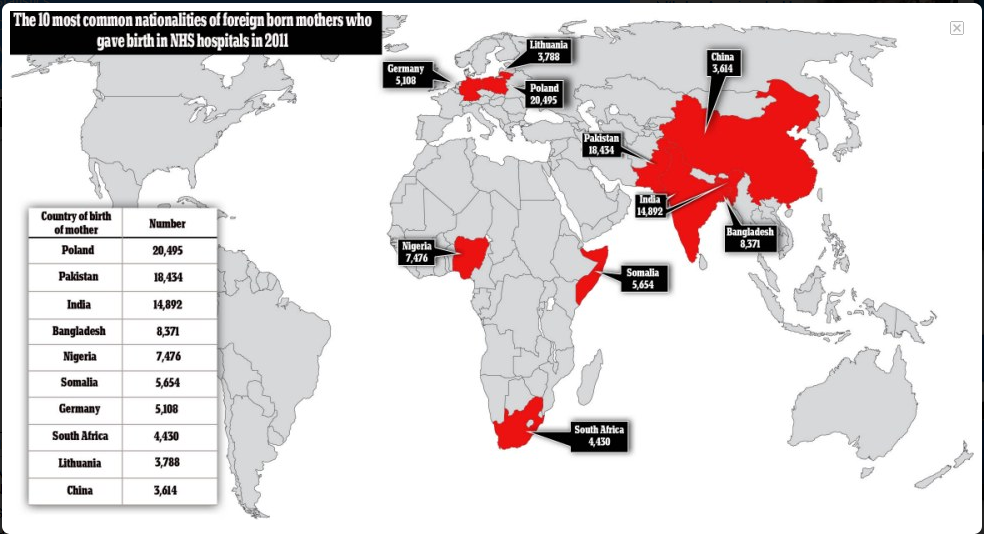 Quarter of Britain's babies are born to foreign mothers – and this is where they all come from
Most mothers came from Poland, India and Pakistan, figures reveal
A total of 184,000 children born in these circumstances in NHS hospitals
The overall 25.5% rate is the highest since records began in 1969
In London in 2011 56.7% of new mums were originally from outside the UK
Newham in London has a rate of 77% of foreign mothers
The lowest levels were in the north-east of England
Net migration is still at more than 200,000, much higher than the 2015 target of under 100,000
By MARTIN ROBINSON and STEVE DOUGHTY
PUBLISHED: 10:38 GMT, 30 August 2012 | UPDATED: 23:29 GMT, 30 August 2012
Comments (400)
Share
The Government has today revealed the top-ten most common nationalities of foreign-born women who gave birth in NHS hospitals in the last year.
The new record level of births to foreign-born mothers is more than double the proportion of 20 years ago, with women originally from Poland topping the list, according to the Office for National Statistics.
Other nations represented in the top ten include Pakistan, India, Bangladesh, Nigeria and Somalia.
A total of 184,000 children were born in these circumstances, with almost half of them in London, which has a foreign-born mother rate of 56.7 per cent, far above the national average of 25.5 per cent.