Really depressing to see the Wall Street Journal pimping the 'Arab Spring' bull crap. McCarthy set em straight as usual.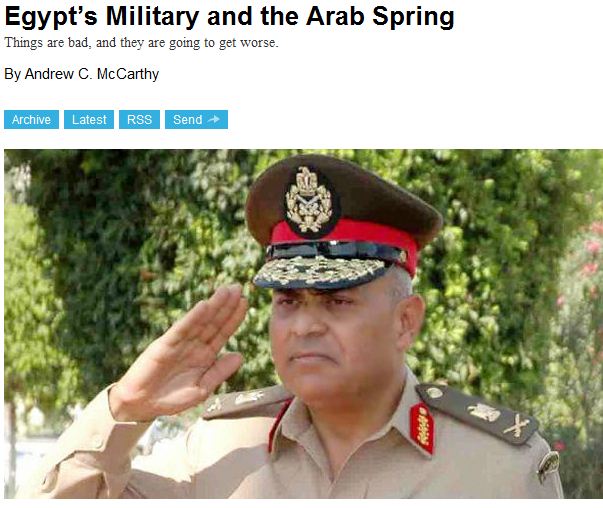 Earlier this week, I wrote about Abdel-Fattah el-Sissi. He is a Muslim Brotherhood adherent who rose to the rank of general in Egypt's military — the armed forces he has just been tapped to command by Mohammed Morsi, the Muslim Brotherhood eminence who was elected president of Egypt a few weeks back. My column was prompted by the Wall Street Journal's coverage of Sissi's appointment, which strained to put a positive spin on an unfolding catastrophe.
The Journal has been all in on the "Arab Spring" fairy tale from the get-go, joining the bipartisan Beltway chorus in presenting the rise of Islamist totalitarianism as a spontaneous eruption of freedom fervor. Even so, it was jarring to find the paper burying General Sissi's Brotherhood sympathies at the bottom of a lengthy profile. The thud came only after paragraph upon sunny paragraph of the conceit that Sissi's decades of exposure to American military counterparts and his high standing in the eyes of Obama-administration officials boded well for future American-Egyptian relations and Israeli security.
The mainstream media, it seems, have their template: We've spent 30 years and about $45 billion cultivating the Egyptian military, so rest assured it is not going to stand by and let Egypt fall under the yoke of Islamist rule. Pretty soon, though, they'll have to fire up Story Line B: Islamist rule is actually quite moderate and perfectly compatible with democracy . . .  On Friday, the New York Times reported on yet another key Islamist military appointment in the Brotherhood's new Egypt: General Sedky Sobhi, who was just named army chief of staff.