I seriously doubt a Muslim officer in the same position would have been demoted, let alone criticized for not wanting to attend a church or synagogue service. As long as our authorities are afraid of offending the intolerant, this kind of crap will continue. 
H/T:Scottish Infidel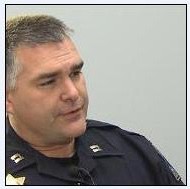 Oklahoma police captain sues department over mosque assignment
By Mike Jaccarino
Published August 16, 2012
FoxNews.com
A Tulsa police officer and devout Christian is suing his department after being punished for refusing to go to a mosque for a mandatory cultural event.
Police Capt. Paul Campbell Fields, a 17-year veteran, was docked two weeks' pay, transferred, reduced to the graveyard shift and made ineligible for promotions for at least a year, after he told his chief his faith made it impossible for him to attend a "Law Enforcement Appreciation Day" at the Islamic Cultural Society of Tulsa, according to the lawsuit.
Fields, 43, is a non-denominational Christian, who quoted Scripture in legal explanation of his insubordination.
"This event is compelling me to go to a venue where a group of individuals is prepared to discuss their (Islamic) faith," Fields said during a May 2012 deposition, the transcript of which was obtained by FoxNews.com. "And in my faith, I have a duty to proselytize my faith to people (who) don't subscribe to my faith. I can't do that in uniform. And so therein lies the conflict or moral dilemma I face."