When was the last time we've seen German convert anti-Semites in Egypt?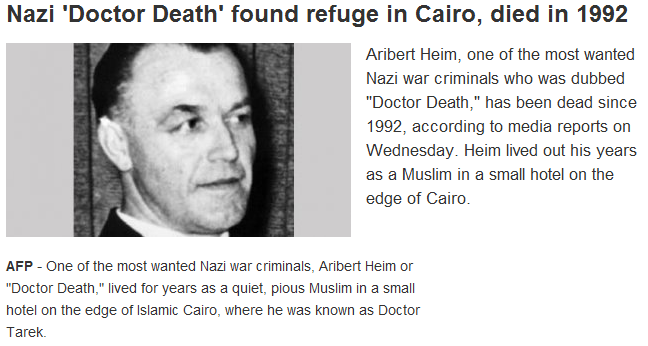 Read up on what Weinthal is reporting on. Germany is a state (that allows the international terrorist organization, Hezbollah, to operate on its soil) producing converts to Islam who are flourishing under Germany's lax policies.
NOTE: The Islam being reported on in the story, is basic Islam 101, the kind that all four schools of Islamic jurisprudence accept and have been promoting for hundreds of years. You will not find Muslim clerics from Cairo's Al-Azhar university disagreeing with salafists or whabbists.
A marriage made in hell.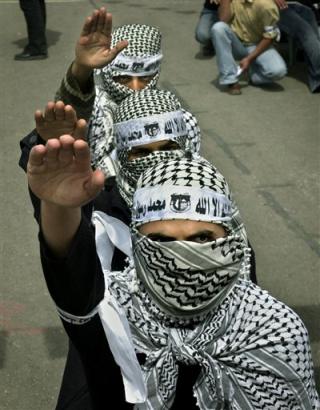 The rise of a 'German Salafist colony' in Egypt
By BENJAMIN WEINTHAL
August 15, 2012
BERLIN — Earlier this year, the Austrian-born Islamist and al Qaeda supporter Muhammad Mahmoud fled Germany for Egypt, where he has launched an organizational structure to develop a base of German jihadists. The daily Die Welt reported on Aug. 10 that Mahmoud's campaign to recruit German Salafists to leave the Federal Republic has resulted in the relocation of as many as 12 jihadists to the North African country. German domestic intelligence and police authorities called the development the emergence of a "German Salafist colony" in Egypt. A few days later, Der Spiegel stated that about 20 of Mahmoud's followers have left for Egypt and that another 30 are planning to leave shortly.
Mahmoud said he would return to Germany only as a "conqueror to introduce Sharia." Salafists interpret the Islamic sharia system to mean the imposition of a pre-modern way of life that rejects Western liberties. Although one of Mahmoud's close associates, the former rapper Denis Cuspert, was under observation by the German authorities in Berlin, he also has managed to flee to Egypt.
In 2009, Austria's judiciary convicted Mahmoud, the ringleader of the German-speaking group, for aiding the al Qaeda-affiliated jihadi media company Global Islamic Media Front (GIMF). After serving a prison sentence in Austria, he moved to Germany in late 2011 and played a critical role in building the Millatu Ibrahim ("The Religious Community of Ibrahim"). Germany's Interior ministry banned Millatu Ibrahim in June.
According to the Die Welt article, which was written by the paper's radical Islam expert, Florian Flade, three well-known German Salafists have gone to Egypt: the former boxer Pierre Vogel, the Islamic preacher Sven Lau, and the former Berlin rapper Denis Cuspert "Deso Dogg." The three Germans are Muslim converts and advocate a fiery brand of ultra-orthodox Islam that is characterized by anti-Western ideology, anti-Americanism, and deep misogyny.