Yes, the destruction of the United States of America……..
NOTE: Remember all you fence sitters out there, you do not seek to 'fundamentally transform something that you love, only something that you greatly dislike.
NOTE: Pic via Weasel Zippers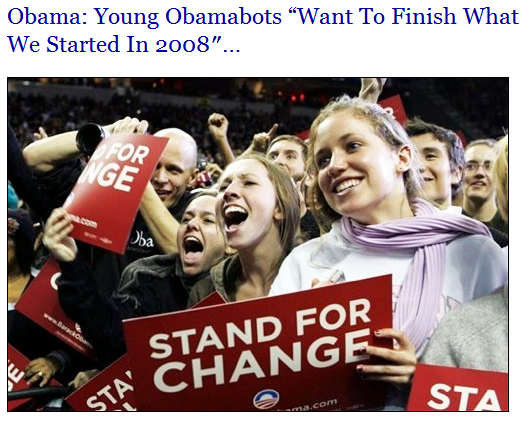 Obama says young voters 'want to finish what we started in 2008'
By Meghashyam Mali – 07/15/12 04:22 PM ET
President Obama dismissed suggestions that young voters who backed him in 2008 were less enthusiastic this election cycle, saying that he believed they wanted to "finish what we started."
In an interview with local Washington D.C. station WJLA released Sunday, the president predicted young voters would again rally behind his presidency.
"2008, obviously your first time around in some ways it was lightning in a bottle. There were so many young people who just automatically got involved and, you know, we've gone through three and a half tough years. The economy is tough, especially for young people," Obama acknowledged, according to a transcript of the interview.