Their (the Muslim couples) whole story is dubious. A woman goes out of her way to help them and then gets verbal abuse, punched and kicked for her troubles, is now being abused even further by these low lifes with claims of aggravated assault. It's all about racism you know.
The celebrity photographer and an 'assault in Tesco on hijab-wearing Muslim she called a terrorist'
Photographer Cinnamon Heathcote Drury allegedly called a Muslim family 'terrorists'
Also accused of pushing pregnant woman wearing a hijab
Heathcote Drury denies racially aggravated assault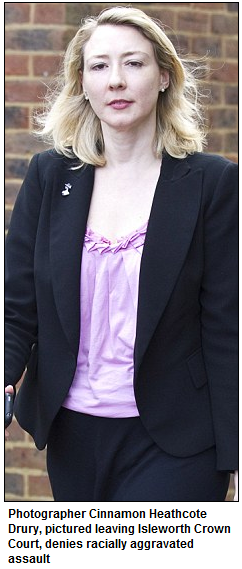 […] She told a jury at Isleworth Crown Court that trouble began at the Tesco store in Kensington, West London, when she offered to help the woman, Mounia Hamoumi, and her husband unload their shopping trolley.
The court was told she had overheard the husband refusing to help his wife because he was too busy looking after their children.
'I told him that is what feminism is all about, women helping women – and he told me to "get lost",' claimed Heathcote-Drury.
[…] The photographer, whose portrait subjects also include actor Terence Stamp and ministers Kenneth Clarke and Iain Duncan Smith, told the court: 'Many of those words were made up, they have misheard it for their purpose.'
With tears in her eyes, she said: 'I am the only one who was assaulted. I am the only one with injuries.' Heathcote-Drury made an assault complaint to police, claiming she was tripped, kicked and punched by Mrs Hamoumi, but this was not pursued by the investigating officers.
The prosecutor suggested: 'You played the victim in order to get out of trouble, trying to direct attention on to them and away from you.'
A security guard broke up the row, but Heathcote-Drury is accused of then approaching Mrs Hamoumi and pushing her to the floor.