These poor kids, brutalized by their father, they will be traumatized for the rest of their lives.
H/T: Fjordman
The neighbors have seen the man on the roof of the house holding his wife's head. Orhan S. Then he cast it into the inner courtyard of the house. Orhan had also invoked Allah, shouting "Allah is great" , while he was sharpening his knife.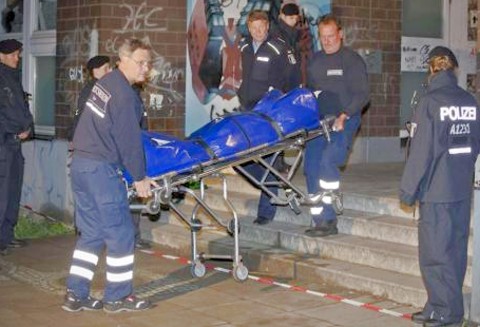 Husband butchers wife in front of six children, throws her head roof of apartment building
32-year-old arrested Monday in Berlin, Germany
A man in Germany was arrested after police say he butchered his wife in front of their six children and then threw her severed head from the rooftop.
Orhan Sircasi, 32, made his children, aged between 9 months and 10 years, watch as he killed their mother Monday in the family's Berlin apartment, MSN India reports.
Sircasi, of Turkish origin, then ran to the roof of the five-story building with his wife's head and a knife. He tried to attack police officers, but was eventually overpowered.
Police then entered the man's apartment, where they reportedly found his wife's dismembered body and his children, who have since been placed under psychiatric observation.
Neighbors say they alerted police after hearing screams from the apartment.
According to local media, the man often beat his wife, especially when he was drinking.
Sircasi is due to appear in court Tuesday.