It's not very difficult to predict the outcome of next week's elections. KGS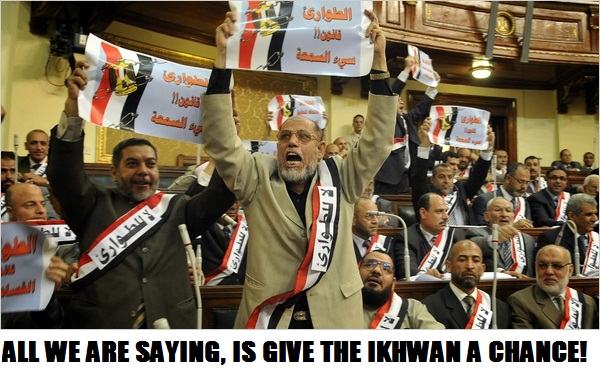 EGYPT'S MILITARY SAYS NO VOTE POSTPONEMENT
Unholy Alliance: Egypt's Military & The Muslim Brotherhood
Despite protestations of its purported political neutrality Egypt's besieged military leadership has been secretly funneling financial, food, and security support to Egypt's Muslim Brotherhood and its allied Salafist parties in the run up to next week's parliamentary elections.
The assistance takes the form of "walk around" money, clothing and food giveaways secretly funneled to the coffers of the Brotherhood's front party — the Freedom and Justice Party, the Construction and Development Party, as well as to allied Salafist Parties, including Al Nour, Al-Asalah, Al-Fadilah, Al Islah and others — in a bid to buy votes and provide Islamist parties a military supported upper hand in the upcoming parliamentary elections..
The military leadership has not only channeled financial support to the Islamists, it has also secretly collaborated with Salafists who have attacked Copts throughout Egypt in a show of support for more punitive discriminatory acts against Egypt's Coptic minority to curry further favor with Salafists.
Hundreds of Copts were attacked by unknown assailants en route to Cairo's Tahrir Square on November 18th the second night of demonstrations this month while security forces stood by. This latest attack comes in the wake of October's attack by the army which used live fire and drove military vehicles into a crowd of Copts protesting a rash of attacks on Copts and Coptic churches, killing 25 innocent protestors.