What's actually needed are larger doses of pepper spray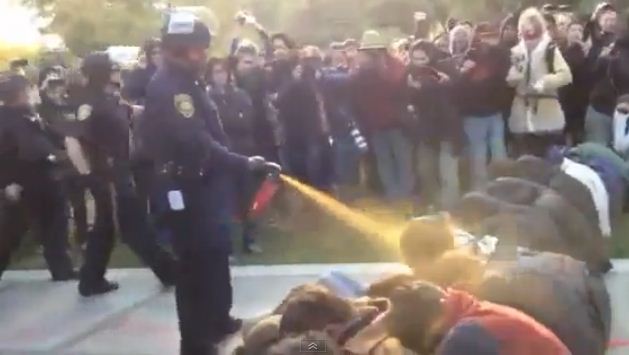 Open eyes wide!
Folks, the losers in the Occupy movement, a collection of deadbeat, flat earth Marxists and other miscreants and malcontents, are now heading to the other bastion of collectivist thinking, the campuses of universities and colleges around the US. The A-holes being peppered sprayed by this police officer are acting in violation of the law, forcing the grounds to allow them to have tents set up, and because they're acting against the police, the following article notes (towards the very end of the article):
At a news conference Saturday, UC Davis Police Chief Annette Spicuzza said the decision to use pepper spray was made at the scene. "The students had encircled the officers," she said. "They needed to exit. They were looking to leave but were unable to get out."
So tough luck you bunch of morons, you deserved every bit of pepper spray you received, the police were not being violent in any respect, as their movements show, they needed to get out of a situation in which they were grossly outnumbered by an angry crowd of onlookers. Like I said, more pepper spray please. KGS
UC Davis chief launches probe into pepper-spraying of protesters
Video of the events goes viral on the Web. The chancellor initially didn't criticize police but later said seeing the images 'left me with a very bad feeling.' Some faculty members seek her ouster.