You just have to love  the irony, the Syrian regime loved helping Arab terrorists to attack Israeli citizens, now the baying pack is howling in its own backyard. Hitting the Ba'ath party building with rocket fire huh? I wonder how much if it originated from Libya?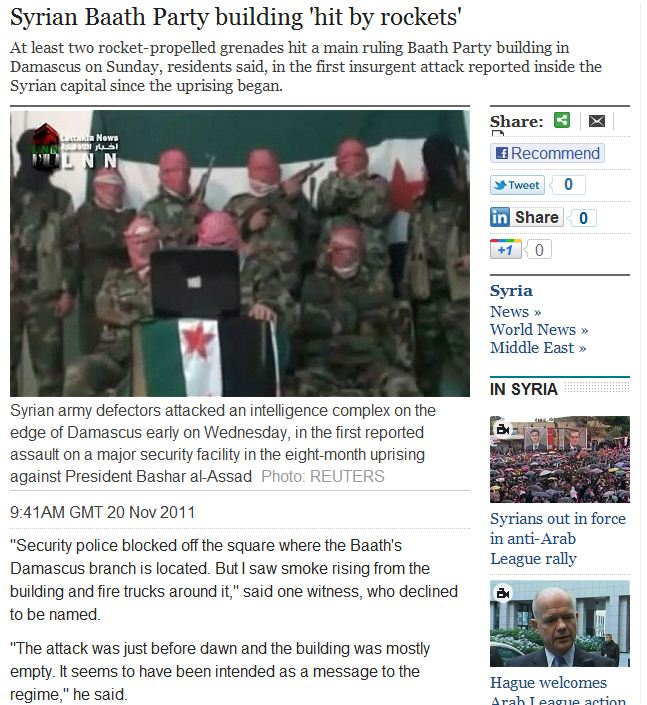 BUT: ASSAD REFUSES TO BACK DOWN: SAYS CRUSHING MILITANTS STILL THE OBJECTIVE…… If he's unsuccessful in the way of Mubarak and and Gaddafi, he knows what awaits him: back against the wall and bang, bang, bang. KGS
Syria's Assad: crackdown to continue
Nov 20 03:34 AM US/Eastern
By ZEINA KARAM
al-Associated dePressed
BEIRUT (al-AP) – Syria's President Bashar Assad has vowed to continue with a security crackdown to crush 'militants' who he says are massacring Syrians on daily basis.
Assad said in an interview with Britain's Sunday Times newspaper published Sunday that Syria will not bow and will continue to resist the pressures being imposed on it.
The embattled president said he feels "pain and sorrow" for the bloodshed in Syria but added the solution was to eliminate the militants he blames for much of the violence.
He said 800 Syrian officers and members of the security forces have been killed since the start of the revolt eight months ago.
The U.N. says some 3,500 have been killed in the unrest and the crackdown in Syria since mid-March.