Erkki Tuomioja, the second time he's been Finland's Foreign Minister, has a long history of anti-Israel animus, and stirring up hatred for Israel in the many anti-Israel forums he attends. Of course it's all couched in the "quest for peace" meme, but Israel always comes out as the bad guy and the poor Arabs as the 'innocent victims'. They (the arabs) never seem to have done anything wrong in that fecal head's brain, it's always Israel.
Well here's a politician who knows Tuomioja all too well, and takes aim and fires back at the 60's radical in front of the Finnish parliament. Ben Zyskowicz from the National Coalition party says enough is enough and wants some answers to the question of why did Finland vote in favor of Palestinian membership into UNESCO while most of Scandinavia refrained from doing so. KGS
H/T: Dennis Mitzner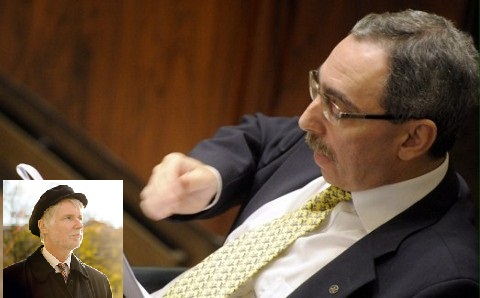 Aside from the Czech Republic, Germany, Lithuania, the Netherlands and Sweden, all EU member states either voted in favor of the Palestinian membership application or abstained.

The reason it is surprising is because the EU has made strengthening UN institutions and speeding up the peace process between Israel and the Palestinians to facilitate Palestinian independence the central aims of its foreign policy. And by supporting or failing to oppose the Palestinian membership bid, the Europeans undercut both aims.
"Tuomioja, waging 30-year war against Israel"
VerkkoUutiset: MP Ben Zyskowicz (cons), accuses the parliament's Foreign Minister, Erkki Tuomioja, (soc dem SDP), of an anti-Israel stance.
Parliament Jouko Jääskeläinen (kd.) asked the parliamentary during question time about the Finnish voting behavior at the UN.
Finland voted in favor, when Palestine was adopted by UNESCO as a full member. Including Sweden, Germany and Denmark voted against, and/or abstained from voting.
Foreign Minister Erkki Tuomioja first answered by noting the construction of settlements, which Israel continues. According to him, UNESCO-case, unfortunately, some EU countries announced immediately that it would vote against it, so no common position was reached through negotiations.
Ben Zyskowicz said to Tuomioja, that it appears as if "you have waged your own personal 30-year war, or at least your 30 year war with Israel for decades."
– You have equated Israeli policy to that of Nazi Germany's policy, and South Africa's apartheid policy. Israel is, however, for decades the only democracy in the Middle East. The only country that has respected human rights, democracy and the implementation of the rule of law, Ben Zyskowicz said.
Zyskowicz asked when has Tuomioja in decades of criticism directed it towards the Syrian dictatorship.
Tuomioja answered by saying that Zyskowicz's question contained "quite a lot of mistakes, clear bias and claims." He denied that he ever said that Israel is an apartheid state.
NOTE: 'Eki' is lying of course, that is exactly what he was trying to say, but in carefully gauged words.