Well that question has been answered. KGS
Muslims defy outdoor prayer ban in France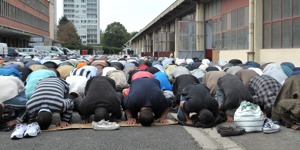 PARIS — Hundreds of Muslims defied a French ban on outdoor prayer — which came into force Friday –and took to the streets and sidewalks of Paris to pray.
The French government announced Thursday it was banning praying outside, with officials pledging to enforce the ban from Friday.
But 200 Muslims ignored the ban and prayed on the streets in the neighborhood of La Goutte d'Or, Le Parisien newspaper reported.
French interior minister Claude Gueant said he had nothing against Islam but wanted it out of the public eye because France was a secular state.