The problem here is Syria using Israel's borders to misdirect attention away from its brutal crackdown on its own dissenters. The Israelis are left with little choice but to respond with live fire after all other measures are tried. KGS
UPDATE: IDF WARNS INFILTRATORS: "Stop! You are breaching an international border. We warn you not to damage security infrastructure. Whosoever attempts to violate Israel's sovereignty or security infrastructure puts himself in jeopardy. Please return to Syria."
UPDATE II: Assad regime paid a 1000 dollars to each farmer who showed up on Israel's border, 10 000 to their family if they were killed. H/T POTB

H/T Daled Amos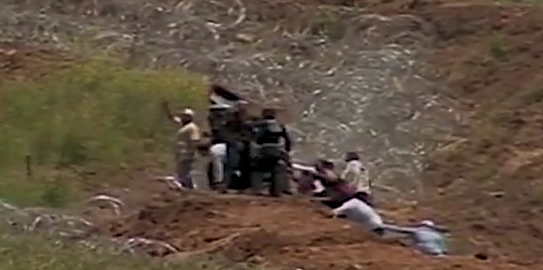 UN head airs 'deep concern' over Naksa Day border clashes
By JPOST.COM STAFF
06/06/2011 13:40
Ban Ki-moon warns violence on Syrian frontier jeopardizes long-held cease-fire, urges restraint from both sides; Lieberman will reportedly file complaint against Syria with UN for encouraging rioters.
UN Secretary-General Ban Ki-moon on Monday expressed "deep concern" over Naksa Day clashes that took place between IDF soldiers and pro-Palestinian protesters attempting to infiltrate Israel's borders on Sunday, AFP reported. He called on all parties involved in the Israeli-Arab conflict to exercise "maximum restraint."
"The secretary-general regrets the loss of life, and extends his condolences to the families of the victims," said a statement by Ban's spokesman. Syria claimed 23 activists were killed, and 350 were wounded, in the clashes to commemorate the Palestinian "Naksa," or "setback" of the 1967 Six-Day War on Sunday, although the numbers could not be verified. The IDF rejected the reports of 23 deaths as "exaggerated," Army Radio reported on Monday.