The problem here is the political elite's rejection of its own culture and history, and penalizing those who beg to differ. No one wants to be a minority within their own country. The age of colonialism is supposed to be over, but for the multiculturalist,  it's acceptable for the reverse to happen, filling up Europe with millions of illiberal minded immigrants is just peachy keen. KGS
NOTE: To prove that these societal enrichers haven't a clue about what they are doing, look at the language they use to describe their goals. The journalist, Anders Lindblad, bemoans the insistence of many for (individual) assimilation over integration, while in fact both have nothing to do with multiculturalism per say.
Multiculturalism is a group rights driven ideology, and though the process of assimilation first involves integration, they however reject the process to complete assimilation, opting for a competing cultures society, something of which can not and will not work. What they are demanding is for a policy that directs the individual into race/ethnic based groups, not as individual citizens. It's classic Leftist statism and very racial.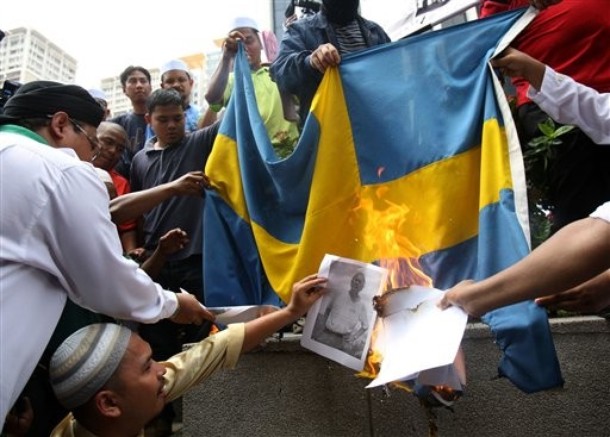 NO MATTER HOW MUCH THEY WANT TO LIKED THEY WON'T BE
Multiculti defence sparks debate
The Local: A Swedish newspaper's opinion piece on multiculturalism has provoked a heated response from readers.
Today is Sweden's national day, a public holiday since 2005, and an occasion seized by many to wave the Swedish flag, and perhaps enjoy a plate or two of pickled herring.
Unfortunately, however, the day has also become synonymous with right-wing extremists, as these groups have chosen June 6th to convene in anti-immigrant marches.
In light of this, newspaper Aftonbladet today published an opinion piece penned by journalist Anders Lindblad, defending the multicultural society.
The piece, headlined "Today we celebrate diversity, not stupidity" (Vi firar mångfald idag – inte enfald), criticizes right-wing parties in Sweden for changing the tone of the immigration debate since extreme-right party Sweden Democrats (SD) entered the Riksdag.
[…]
Lindblad is also critical of those promoting assimilation instead of integration, among others conservative think tank Timbro.
"Development and openness are the sources of our success. Not isolation and insularity. In the Sweden of the future, people can celebrate any holidays they like. Including the national day," he writes.
This opinion piece has sparked a great deal of controversy on the newspaper's website, and just hours after publication the site has been flooded with hundreds of comments from readers who accuse Lindblad and Aftonbladet of trying to rob Sweden of its own identity.
The photograph accompanying the article – a photo montage of a mosque with a Swedish flag waving from the minaret – has been a particular source of aggravation.