Well that's something that the TT has been reporting on for weeks on end. Libya was one of the fountains of jihadism flowing to Iraq, why should we be surprised that the trend has reversed itself? KGS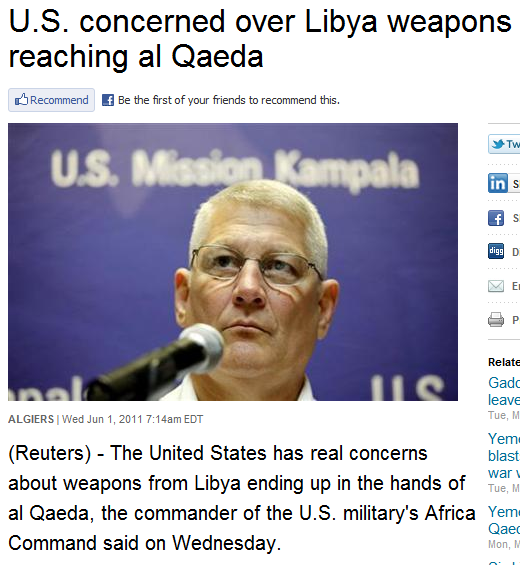 "There is a very real concern for all the regional partners, and the United States shares this concern, about the proliferation of weapons from Libya to other places, including those under the control of al Qaeda and others," General Carter F. Ham told a news conference.
Libya's neighbor Algeria has said it believes the chaos inside Libya, and the large quantities of weapons circulating there, is being exploited by al Qaeda's North African branch, al Qaeda in the Islamic Maghreb (AQIM).
A senior Algerian security source told Reuters convoys of pick-up trucks carrying weapons had been crossing the border from Libya to Niger, and from there to northern Mali where AQIM has bases in the desert.
"To control this proliferation of weapons will require the cooperative efforts of all involved and I have been encouraged to note the meetings that have occurred between Algeria, Mauritania, Mali and Niger," said Ham.