The German Left is in a quandary, having anti-Jewish elements within its own party, they're perplexed on what to do about it. They shouldn't be, being a leftist party, they're just promoting what comes natural to them, bigotry and racism. Adolf Hitler famously once said concerning the socialist ideology that he owed allegiance to:
"If we are socialists, then we must definitely be anti-Semites," Hitler explained during a party speech in Munich, August 1920, "How, as a socialist, can you not be an anti-Semite?"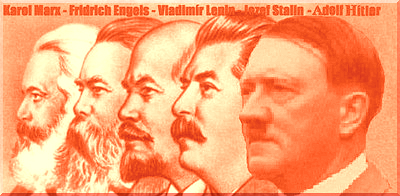 Pressure is growing within Germany's Left party to take decisive action against alleged anti-Semitic tendencies among the socialists.
"If the basic values of the party are neglected, there must be consequences, up to separation," the party's parliamentary whip in the Bundestag, Dagmar Enkelmann, told the Wednesday edition of Der Tagesspiegel newspaper. The call comes as The Left faces continuing criticism that some members of the socialist party have anti-Semitic and anti-Israel leanings.
The Left has also been embarrassed by a series of questionable incidents involving Israel and the Jewish community. In April, a flyer featuring a swastika and the Star of David was found on the website of the party's regional chapter in Duisburg, prompting national outrage. And in May, Hermann Dierkes, a party member in Duisburg, compared the Israeli government to Nazis.