ONE OF THE UNLUCKY ONES……..
NOTE: Remember, it's the Muslims who claim that they're being persecuted and that "islamofauxbia" is the greatest threat to the world.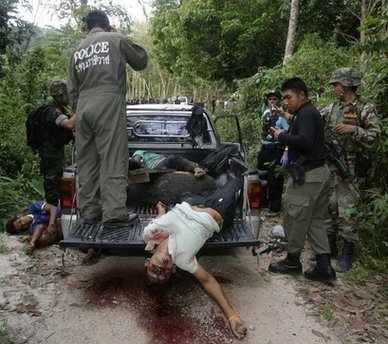 Human Rights Watch condemns increasing violence by Thai separatists
Bangkok – A human rights group on Tuesday condemned a surge in violent attacks by separatist Muslim insurgents on civilian targets this year in Thailand's troubled southern provinces.
Since January, a series of shootings and bombings perpetrated by insurgents have claimed more than a dozen lives.
"There is no excuse for indiscriminate or deliberate attacks against civilians," said Brad Adams, Asia director at Human Rights Watch. "The leaders of separatist insurgent groups need to rethink their tactics, which are abhorrent, illegal, and completely unjustifiable."
Thailand's majority-Muslim southern provinces of Narathiwat, Pattani and Yala have been a hotbed for violence since January 2004, when a long-simmering separatist movement took a more militant turn.
About 4,370 people have died in the conflict over the past seven years, 90 per cent of them civilians, Human Rights Watch said.
[…]
"Some recent insurgent attacks appear intended to spread terror among the Buddhist Thai population, in violation of the laws of war," Human Right Watch said.
"Their aim is to drive out the Buddhist population, keep Muslims under control, and discredit the Thai authorities," the human rights group said of the separatist rebels.
About 80 per cent of the 2 million people living in the three provinces are Muslims, making it the only majority Muslim region in predominantly Buddhist Thailand. An estimated 300,000 Buddhists have left the region since in 2004.