The AFP should be ashamed of itself, but they won't be, it's because it dovetails with their philosophy, never call something by the right name. So here we see an increase in fundamustard activity, I wonder how many on the base were actually cheering them on, at least passively? KGS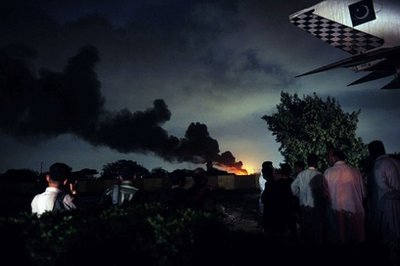 Video via Breitbart
Militants (militants?) storm Pakistan naval air base, five dead
KARACHI (al-AFP) – Gunmen armed with rockets and explosives stormed a major Pakistani naval air base, triggering gunbattles that killed five military personnel, three weeks after the US killing of Osama bin Laden.
Around 10 people were wounded and towering flames rose over PNS Mehran in the centre of Karachi, Pakistan's largest city, where the military and government confirmed that the base was under "terrorist attack".
An AFP reporter saw swarms of soldiers and navy commando reinforcements pile into the base as smoke rose into the night sky. Over a period of several hours, an AFP photographer heard nine blasts and periodic bursts of gunfire.
A spokesman for the Pakistan Navy said fighting was still continuing more than five hours after the attack began at around 10:45 pm (1745 GMT) on Sunday.
"Fighting is still going on. Four navy and one paramilitary personnel were martyred during the exchange of fire," navy spokesman Commander Salman Ali told AFP.
"They have destroyed two P-3c Orion aircraft," he added.
Last June, the United States delivered two P-3C Orion maritime patrol aircraft to PNS Mehran.