Remember folks, this is the highly touted "moderate" Muslim majority state of Malaysia. No matter how you dice it, Islam keeps coming up fundamustard. KGS
NOTE: If I were an ethnic Chinese or Christian living in Malaysia, I would begin packing my bags and looking elsewhere.
H/T Weasel Zippers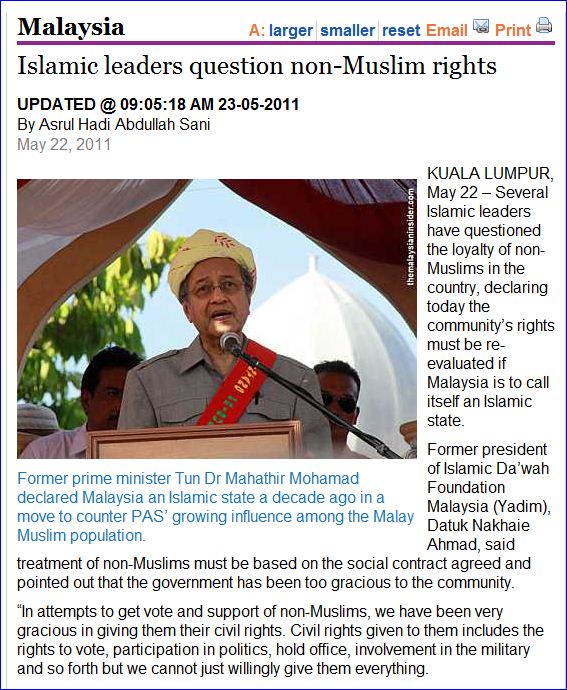 "Our offer must be based on religious practices. If we look at the prophet's agreement in the Madinah constitution, civil rights were given to the Jews but the rights must be paid back with responsibility. They must have the responsibility and agree to defend our country and not insult the agreement," he said during a forum on "Membina Negara Sejahtera" organised by the Persatuan Ulama Malaysia here.
Former prime minister Tun Dr Mahathir Mohamad declared Malaysia an Islamic state a decade ago in a move to counter PAS' growing influence among the country's key Malay Muslim population.
The issue cropped up this month when several groups asked for amendments to the Federal Constitution to stipulate only Muslims can be the prime minister after Utusan Malaysia carried an unsubstantiated report of a Christian plot to usurp Islam's position as religion of the federation.
Nakhaie stressed that non-Muslims that have broken the social contract must be expelled from the country and asked the government to adopt a tough approach in safeguarding Muslim interest.
"If the agreement is broken then actions must be taken against them. If they break our agreement then they are our enemy and must be expelled from the country. We must not compromise with them. We must be stern with them when it comes to the social contract agreed," he said.
Nakhaie added it is important that high level government positions not be awarded to non-Muslims for national security.