THROW THE BOOK AT HIM.
Maybe he should be made to watch South Park every minute he's awake for the duration of his sentence. KGS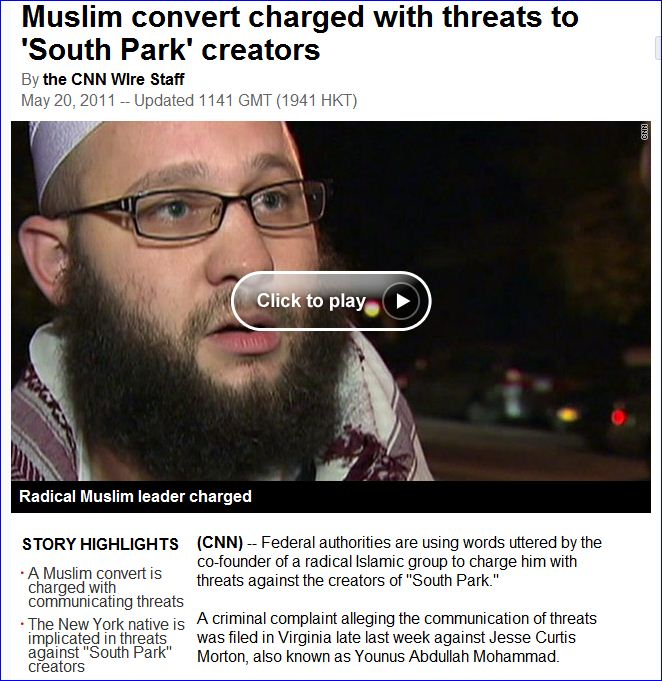 A senior law enforcement source Thursday told CNN, which interviewed Morton in 2009, that the suspect is believed to be in Morocco, where he maintains Islampolicy.com, an English-language website propagating pro al Qaeda views.
That website is a successor to Revolutionmuslim.com.
Morton, a former resident of Brooklyn, New York, is the second person charged in the "South Park" case.
In February, Zachary Adam Chesser, 21, who admitted to posting online threats, was sentenced to 25 years in prison.
Chesser, a Muslim convert, encouraged violent jihadists to attack "South Park" writers for an episode that depicted the Prophet Mohammed in a bear suit, court documents said.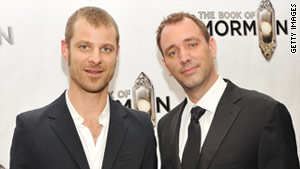 "South Park" creators Matt Stone, left, and Trey Parker, were the targets of online threats, officials say.
Chesser posted online messages that included the writers' home addresses and urged online readers to "pay them a visit," the documents said.