Hang on Bibi, 2012 can't come soon enough. KGS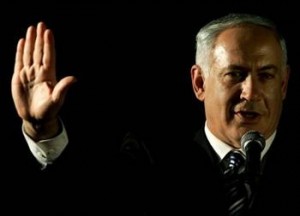 PM meets US president, rejects Obama land-concession plan
By REUTERS AND JPOST.COM STAFF
05/20/2011 21:03
Israeli Prime Minister Benjamin Netanyahu said on Friday he was prepared to make compromises to achieve peace but he rejected President Barack Obama's proposal that Israel return to 1967 borders.
Obama and Netanyahu met at the White House a day after the US president endorsed a longstanding Palestinian demand on the borders for their future state.
The US president said that any final solution must include two states, Israel and a Palestinian state, which exist viably on each othersborders.
Netanyahu said that while the refugee issue needed to be resolved, it could not be resolved within Israel's borders.
Obama reiterated that Israel's security would be "paramount" in any likely peace deal with the Palestinians.
In remarks to reporters in the Oval Office, Obama said he had reiterated the principles he had laid out on Thursday.
Both men acknowledged differences between their positions.