If you don't keep these people back, they'll be at your throat. KGS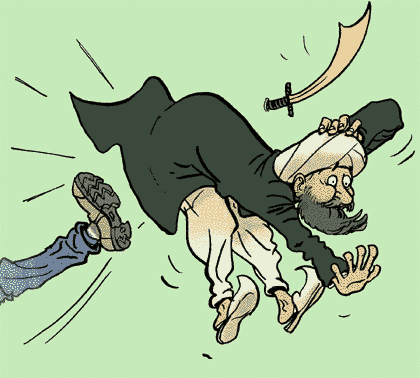 Police arrest Syrian infiltrator near Majdal Shams
By YAAKOV LAPIN AND JPOST.COM STAFF
05/16/2011 08:44
Police say Syrian was being driven to hospital; Ayalon: We have told Syria to prevent infiltrations into Israel; closure on W. Bank extended by 24 hours as security establishment prepares for more protests.
Police arrested a Syrian infiltrator on Monday in Majdal Shams who illegally crossed into Israel during Sunday's border disturbances.
The infiltrator was in a taxi driven by a Palestinian man from east Jerusalem, police spokesman Micky Rosenfeld told The Jerusalem Post. The taxi driver has also been arrested.
The Syrian, 34, "was trying to make his way south. He had no papers on him. He was arrested at a police checkpoint in southern Majdal Shams, and is being questioned at a police station," Rosenfeld added.
The man was not armed, Rosenfeld said.
Police in Majdal Shams are conducting house to house searches looking for Syrian-Palestinian infiltrators, and have set up road blocks around the city.