Oh, and please do remember that this is the group that many Europeans, especially in the Scandinavian north, want Israel to do "business with". These Scandinavian hypocrites, (speaking of the Swedes here) are loathe to negotiate with normal political parties like the Sweden Democrats, (as are the Belgians with the Vlaams Belang) but yet they demand that Israel conduct negotiations with genocidal maniacs like Hamas who vow to do everything in their power to maim, kill and eventually destroy the Jewish state. KGS
NOTE: Any of you who dissent from the Tundra Tabloids take on the matter, please do take it up in the comments.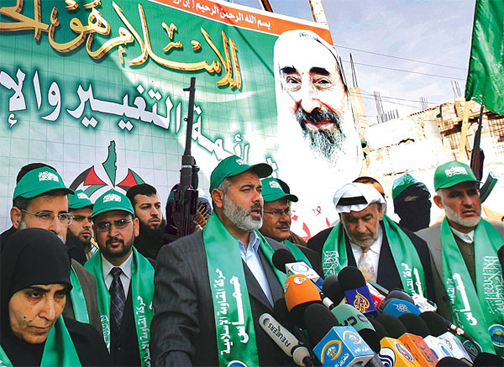 Haniyeh on Nakba Day: Pray for an end to Israel
By JPOST.COM STAFF
05/15/2011 09:47
Hamas PM says group will not recognize Israel; Erekat calls on Netanyahu to "say the numbers 1-9-6-7" if he is serious about peace.
Hamas Prime Minister Ismail Haniyeh spoke to Muslim worshipers on Sunday morning, telling them to pray for an end to Israel.
"Palestinians mark the Nakba with great hope of bringing to an end the Zionist project in Palestine," Haniyeh told 10,000 people at Gaza City's al-Omari mosque, AP reported.
"To achieve our goals in the liberation of our occupied land, we should have one leadership," he reportedly said, praising the recent unity accord between Hamas and Fatah.
Haniyeh added that Hamas would not recognize Israel.
Senior Palestinian official Saeb Erekat on Sunday also commented on Nakba Day events, telling Israel Radio, "This is the day of my nakba, it is the day when my nation was interrupted. Sixty-three years later, we're still interrupted, we're still under occupation. If I want to go to Jerusalem, I still need to ask permission from one of your kids, your soldiers."
Commenting about a plan in which Israel would agree to a Palestinian state on 1967 borders if the Palestinians agreed to recognize Israel as a Jewish state, Erekat said "Your title is the State of Israel, and that is how we recognize you. It's none of my business to determine who you are. I want to hear the numbers 1-9-6-7 from Netanyahu. Until we don't hear that, we're not going to waste our time."
NOTE: Pic by way of Weasel Zippers