That makes every single one of those who aid and abet the aid flotillas, are an accessory to those planning the genocide of the Jewish state. End the aid to the Palestinians once and for all, let the Arabs spend their own money on the Palis, thereby limiting the amount of money flowing to the jihad against the West. KGS
NOTE: This makes the Norwegian government's spin on its recognizing the then "unity government" of Hamas and Fattah in 2009, the more ridiculous than ever. Nothing will moderate the Hamas, not money, nor recognition, influence, nor gaining a role in government. They are an organization of genocidal Islamic fanatics (Read= pious Mulsim) that believe they're on a mission from their allah. it's high time the West recognizes that fact and begins to act accordingly.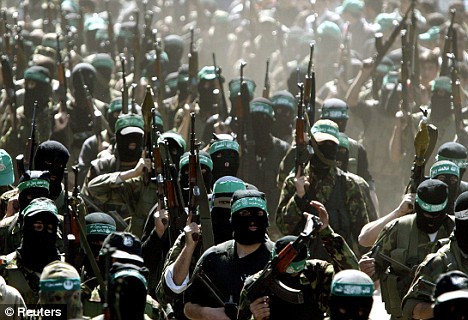 GAZA CITY, Gaza Strip (AP) – A Hamas leader affirmed the group's hard-line principles in a speech to thousands of Muslim worshippers Sunday, as they commemorated the uprooting of Palestinians during the 1948 war over Israel's creation.
Palestinians mark the occasion this year "with great hope of bringing to an end the Zionist project in Palestine," Ismail Haniyeh, the prime minister of the Hamas government in Gaza, told about 10,000 people at a Gaza City mosque.
Haniyeh's apparent reference to Israel's destruction could prove embarrassing for Western-backed Palestinian President Mahmoud Abbas. He recently reconciled with Hamas after a four-year split and is trying to market the Islamic militants to the international community as an acceptable political partner.
Marches commemorating the 1948 events, known in Arabic as "nakba," or the "catastrophe," were also planned in the Abbas-ruled West Bank and in Arab towns in Israel. Hundreds of thousands of Palestinians fled or were driven out during the fighting more than six decades ago. The dispute over the fate of the refugees and their descendants, now several million people, remains at the core of the Mideast conflict.
Israeli security forces were on high alert Sunday, and the Israeli military sealed the West Bank for a day, barring Palestinians from entering Israel.
Haniyeh launched the nakba commemorations with a dawn sermon at Gaza City's al-Omari Mosque.
He said Palestinians have the right to resist Israeli occupation and will one day return to property they lost in 1948. "To achieve our goals in the liberation of our occupied land, we should have one leadership," Haniyeh said, praising the recent unity deal.