The TT posted on this yesterday, but here's another go at it, this time from the HellSingingSanomat, concerning the formation of the Finnish "government of losers." The True Finns, while the clear winners of the recent elections, are going to take their place as the main opposition party in parliament. They will gain from the move as the banking crisis increases, and sooner or later the smaller parties smelling blood in the water begin to jump ship forcing new elections. KGS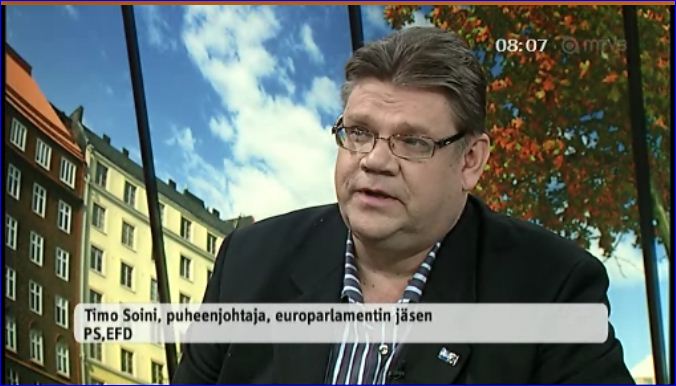 True Finns not joining next government
SDP and Nat. Coalition Party to form new government – other partners needed
HellSingingSanomat: The National Coalition Party and the Social Democratic Party are to be the main parties of the next Finnish government. The announcement followed marathon talks between the two parties on Finnish participation in the EU bailout of Portugal.
Timo Soini, the chairman of the third-largest party in the new Parliament, the True Finns, announced at a highly-charged press briefing on Thursday morning that his party – the biggest winner in April's elections in terms of seats gained – would not be joining the new government.
Soini's party has consistently opposed the Portugal bailout, and the party's Parliamentary group voted unanimously to go into opposition. However, Soini said that EU policy was not the only stumbling block on the path to the government.
Soini pointed out that neither he nor his party wanted to go into government with a string of get-out clauses on issues that the True Finns "could not live with".
He also noted with a grin that the True Finns would be becoming "the largest opposition party" – a sly dig in the direction of the Centre Party, who will presumably now be uncomfortable with the idea of their 35 MPs having to take second billing to the True Finns' 39.
Soini further observed that what might now take place would be a revolving door phenomenon, in which parties that had previously elected not to join the "government of losers" would reconsider their options.