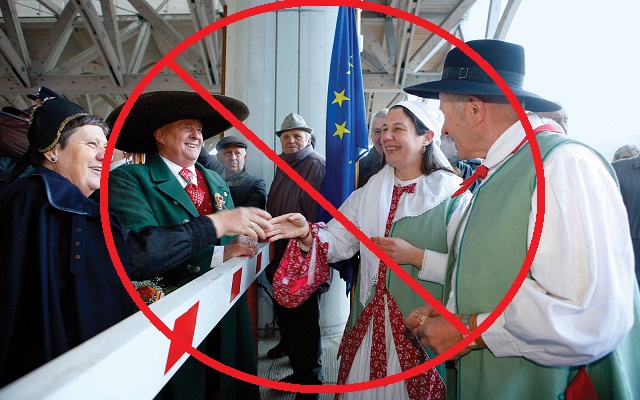 CORRECTION: Henrik R.Clausen reminds the the Tundra Tabloids that it's not a suspension, but a tightening of the Shengen agreement. Going by the full letter of the agreement, not the between-the-fingers understanding.
This is a misunderstanding. The new border control will take place inside the Schengen agreement, we are not aiming at suspending Schengen – which, BTW, has many useful features.

The European Union, predictably, is seeking to prevent us from regaining control of our borders. Time to stand firm here.

German politicians and journalists are raving about the "Selfish" initiative of Denmark. Commenters on stories in the German media, however, say: "Denmark leads the way!", "We want the same for Germany!", "What good has EU brought us?" and the like. German MSM, politicians are entirely out of sync with ordinary Germans…
Via the Sheik: "GoV is keeping an eye on what should be the beginning of the end of  Herman van Rumpoy's EUSSR dictatorship:"
Denmark Suspends the Schengen Agreement
C.Cantoni sent this terse announcement a few hours ago:
Denmark has suspended the Schengen treaty and re-introduced controls at its borders with Germany and Sweden. It was announced by the country's Finance Minister, Claus Hjort Frederiksen. . .
Though the bureaucrats in Brussels have offered some limited, limp-wristed assistance and a few sermons, there has been a marked lack of any robust help for Italy during this siege. However, it appears they're actually worried enough to hold secret meetings about the situation.
The most concise and informative MSM story [I could find] was half a world away, here:
The tensions in the euro zone should be more than a matter of academic interest for Britain and other non-euro nations. The Schengen agreement, which guarantees passport-free travel across the bulk of the EU, one of the cornerstones of the European project, is unravelling as France closes its border with Italy and more desperate immigrants pour in from North Africa.

European diplomacy is falling flat. This is not just because Baroness Ashton of Upholland, the EU's foreign policy chief, has a feeble grasp of EU bureaucracy, but also because there are now fundamental differences between France and Germany, and a leadership vacuum at the heart of the union.
Read it all here.
Herman Van Rompuy, the fake president of the EU seems to be losing his grip: