This is definitely a feel good story. Any time terrorists are taken down by the good guys, it's something worth remembering. Thanks to TINSC for the H/T. KGS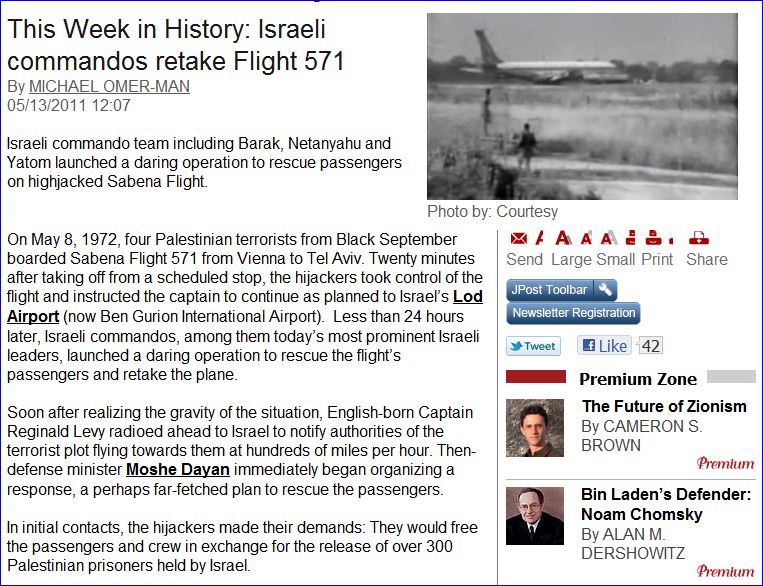 In initial contacts, the hijackers made their demands: They would free the passengers and crew in exchange for the release of over 300 Palestinian prisoners held by Israel.
After nightfall, hours after the plane had parked near Lod Airport's lone terminal, Israeli forces carefully snuck under the plane to deflate its tires and disable its hydraulic systems. In an attempt to calm the terrorists after they discovered the plane had been disabled, Captain Levy kept them occupied through the night with constant chatter, discussing "everything under the sun … from navigation to sex," he later recalled.
In the morning, the hijackers sent the plane's captain to show the Israelis that they indeed possessed adequate explosives to destroy the plane. Levy, realizing that the only hope for him and the passengers (one of whom was his wife) lay in the hands of the Israelis, provided them with detailed about the hijackers' whereabouts and the layout of the plane.
Armed with a better understanding of what they were up against, 16 commandos from the elite Sayeret Matkal unit disguised themselves as airplane mechanics. The team was commanded by current Defense Minister Ehud Barak. Other members of the team included current Prime Minister Binyamin Netanyahu, former MK and Mossad chief Danny Yatom and former MK Uzi Dayan. The commandos approached the plane and pretended to examine the equipment on its underbelly.