Folks, the warning of Islamization is not a ruse, a conspiracy theory, a  prank or a lark, but a real situation being played out before our very eyes, and this scenario has been played out throughout history wherever Islam washed up on shore. Take it seriously, sharia doesn't just mean for Muslim only, but for the rest of us well, it has to be rejected in every form it presents itself in. KGS
H/T  Scottish Infidel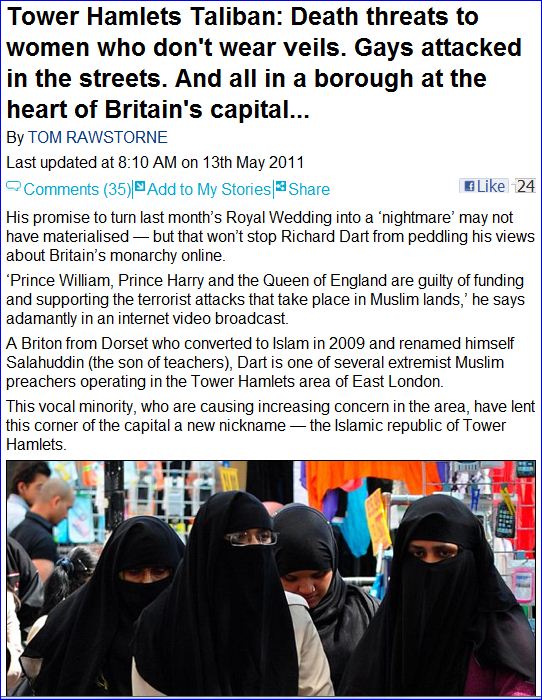 Recently, it was reported that a 31-year-old Asian woman who works in a local chemist's had received death threats for refusing to wear a veil, even though she's not a practising Muslim. Four weeks ago, the woman's boss was apparently approached by an Asian in his 40s who told him his employee must cover her head and wear longer robes.

'If she keeps working here and continues to dress like that, we will boycott you because this is a Muslim area,' the shop's owner was told.

Subsequently another, younger, Asian man came into the pharmacy and started shouting at the employee.

'He said: "If you keep doing these things, we will kill you,"' recalls a Bangladeshi-born man who witnessed the scene.

It is not the first time such death threats have been issued, and nor are they confined to issues of dress and deportment. In behaviour that some have compared to that of the Taliban in Afghanistan, homophobic abuse and physical attacks against gay men and women are also reported to be on the increase.