The Tundra Tabloids publishes this comment by a Norwegian named Alex, who comments to an earlier post about the rise of anti-Semitism in Norway. Anti-Semitism in Norway is undeniable, but it's great to hear from Norwegians who not only admit to that fact, but ask for continued international help in criticizing their politicians and government.
Are Norwegians as Alex claims, "predominantly pro-Israel"? The Tundra Tabloids can't say for sure, but there's no doubt however that pro-Israel sentiment there exists. The TT receives emails from Norwegians all the time, who feel forced to express their support from the shadows.
The Left in Norway need to be decisively defeated in the polls, and the only people that can do that are the Norwegians themselves. That kind of support would be worth more than any number of people demonstrating in the streets. KGS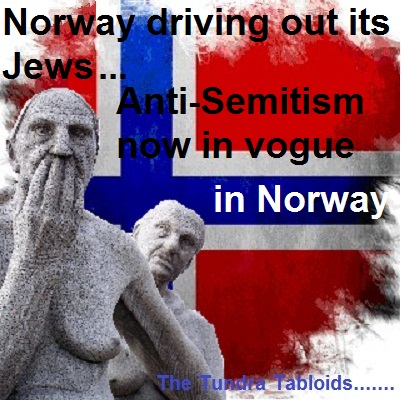 Alex: This assessment by Bawer is correct up to the part when he involves the populace in this charade. The cultural leftist elite are controlling the media and by that they cover up the opinions of the ordinary Norwegians. We are predominantly pro-Israel, but to say so in public is social suicide.
The parties that have the most islamofriendly views only has about 7% of the votes, so in fact approx 10-15% of Norwegians are pro-palestinian. Problem is when the media is controlled by the same people, they make it seem as if they are 50% or more. Also the ones doing public rallies are the pro-palestinians, the other groups are being stigmatized and threatened by these people and no reaction is made against this behavior.
The Norwegian people are being kept hostage by its own media and the ruling government. They know that the only way to keep the people voting for them is to "import" new voters and make it seem in the media that their politics is the only right one. All the Norwegian journalists writes about the Progress Party in a negative way, saying that their politics would spell doom for Norway. If a lie is repeated enough times, the simple minded will believe it.
The true opinions amongst the Norwegian populace is shown in the bloggers community. Here people can express their views anonymously, without fear of physical violence or social stigma. Here the overwhelming majority are skeptic toward the muslim immigration and they recognize the fact that Israel is the only democracy in the middle-east. Even if the media may make it seem we are antisemitic, the real truth is quite the opposite.
What we need is more criticism from our own allies towards our media and our government, and more emphasis on showing the dangers of the muslim immigration.