The TT wonders how many of the rebels had damp cheeks over the demise of Osama Bin Laden. These are the people "Catheter" Ashton, the fake FM of the EU wants to do business with. What a bunch of sicko's. KGS
H/T: Fjordman
NOTE: Catheter Ashton, always putting her hands where you don't want them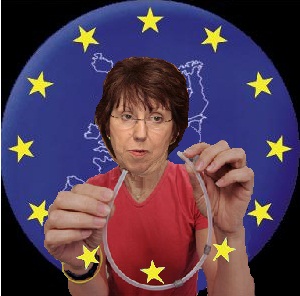 EU to open office in Libyan rebel stronghold
ANDREW RETTMAN
11.05.2011 @ 13:16 CET
EUOBSERVER / BRUSSELS – EU foreign relations chief Catherine Ashton has said she will open a diplomatic mission in the stronghold of the Transitional National Council (TNC), a parallel government formed by anti-Gaddafi rebels in Libya.
"I intend to open an office in Benghazi so that we can move forward on the support we have discussed with the people, to support civil society, to support the interim national council and Mr Jebril [a leading TNC member], and there's many meetings I've had with him, and to support security sector reform," Ashton told MEPs in Strasbourg on Wednesday (11 May).
She also mentioned "healthcare … education … [and] improving security of borders" as priorities for the EU outpost.