Israel has the right to block any attempt to break its weapons blockade, like they did not only with the Mavi Marmara, but also with this ship, the Victoria, which had all kinds of military hardware from Iran that was heading for the Gaza Strip.
THE BASTARDS.
What these MEP's are doing is aiding and abetting terrorists, or in other words, Jew killers, and they should be sanctioned (the TT prefers their being kicked out) by the EU parliament and by their fellow politicians and political parties at at home, not made into heroes. KGS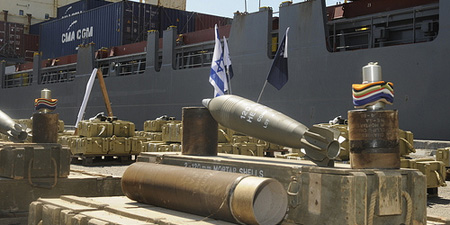 H/T: Fjordman
MEPs to go on Gaza boats despite risks
ANDREW RETTMAN
Today @ 09:28 CET
EUOBSERVER / BRUSSELS – At least two MEPs plan to put their personal safety at risk by going on boats in a new flotilla to break Israel's maritime blockade on Gaza.
Flotilla organiser Manuel Tapial told press at the EU parliament in Strasbourg on Tuesday (10 May) that Willy Meyer, a left-wing Spanish euro-deputy, and Paul Murphy, a left-wing Irish member, will be on two of the around 15 boats that plan to sail from various European locations in June.
French green MEP Nicole Kill-Nielsen indicated she will enter Gaza via Egypt as part of another group of euro-parliamentarians to meet the boats if they make it that far.
Israeli commandos last year killed nine people and injured 52 in an operation to stop a similar project.
Speaking in a rival press briefing in Strasbourg on Tuesday, Israel's ambassador to the EU, Ran Curiel, said Israel has to control access to Gaza because militants continue to shoot rockets from the strip. "I cannot say hypothetically that they [flotilla participants] will endanger their lives. What I can say is that Israel will do everything in order to protect its citizens and we will do it within international law."
A British Conservative Party MEP, Charles Tannock, sitting alongside Curiel, came to close to endorsing Israeli military action. "People taking part in this exercise are playing with fire and endangering civilian lives in doing so," he said.
Speaking to EUobserver earlier this month, an Israeli diplomat said Israel is within its rights to again send in commandos, citing the San Remo Manual on International Law Applicable to Armed Conflicts at Sea, a 1994 international agreement, and the Turkel Commission, an internal Israeli enquiry which exonerated its soldiers over the killings.
Pro-flotilla MEPs on Tuesday invited EU foreign relations chief Catherine Ashton to come and inspect the cargo – schoolbooks, construction materials and medical equipment – before the ships embark.
Italian Liberal deputy Niccolo Rinaldi said: "It is amazing to see how this operation is being demonised … It is being pictured as a sort of provocative if not terrorist activity, which is unacceptable for what is a major humanitarian and non-violent operation."
NOTE: It is indeed a provocation and a violation of international law for these MEP's to try and break a legal anti-weapons blockade that Israel (and Egypt before Mubarak's overthrow) has imposed upon the genicidal Hamas run Gaza Strip. There is no humanitarian crisis in Gaza, and all real aid would be graciously accepted by Israel and transported to the Arabs in Gaza via an Israeli port.