He knows that if he fails, his back will be against the wall and bang, bang, bang. KGS
Syria's bloody crackdown continues; Assad unfazed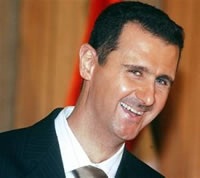 AMMAN – Army tanks shelled a residential district in Homs on Wednesday, said a rights campaigner in Syria's third city which has emerged as the most populous center of defiance against President Bashar Assad's rule.
"Homs is shaking with the sound of explosions from tank shelling and heavy machineguns in the Bab Amro neighborhood," said Najati Tayara.
Assad's forces killed three anti-government protesters in southern Syria on Tuesday night, activists told AP.
Assad initially responded to the unrest, the most serious challenge to his 11-year grip on power, with promises of reform. He granted citizenship to stateless Kurds and last month lifted a 48-year state of emergency.
But he also sent the army to crush dissent, in Deraa where demonstrations first erupted on March 18 and then to other cities, making clear he would not risk losing the tight control his family has held over Syria for the past 41 years.