On second thought….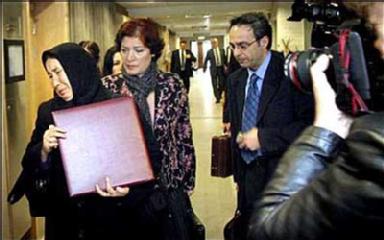 Here's a picture of Fateme Khawari, mother of the murdered Abbas Rezai, coming to trial with an album of photos of her son in 2006. The parents of the man convicted of the murder were at the time suspects in the case, but for were removed from the list. Now they're back on it. As in many cases of honor murders, it's a family affair. KGS

New arrests as high court reviews 'honour' killing
Published: 9 May 11 15:37 CET |
The parents of a man convicted of a so-called honour killing in Högsby, southern Sweden in 2005, have been arrested following a decision by the Supreme Court to review the case.
"There will be a remand hearing for them in the Supreme Court tomorrow, Tuesday," said prosecutor Kerstin Eriksson.
The Supreme Court has ruled to allow a retrial in the case of their son, who was 18-years-old at the time, and who remains the only person convicted in the murder of 20-year-old Abbas Rezai.
The man, who is now 23-years-old, was sentenced to four years youth detention followed by deportation to Afghanistan. He was released in November 2009 and has since then been fighting his deportation.
The court classified the murder as a so-called honour killing as Rezai was involved in a relationship with the convicted man's sister at the time of his brutal slaying in November 2005.
His parents were meanwhile acquitted despite both the district court and the appeal court ruling that their son could not have committed the crime alone.