EVIL GENOCIDAL SOCIALISTS 'YING AND YANG' DESERVE AN ETERNITY IN HELL AT EACH OTHERS THROATS.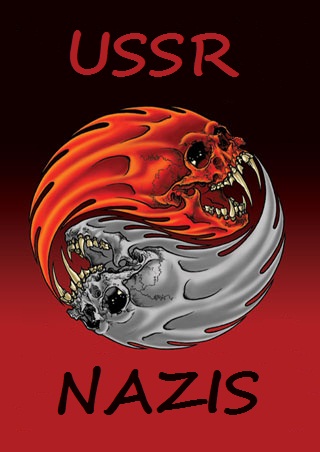 The Tundra Tabloids only celebrates the Western Allies' victory over the German National Socialists, not the Soviet Union's. The murderous Soviet regime was allied with the Nazis with the full intention to allow Hitler and his minions take over half of Europe. Then when Stalin felt he could eventually take them on and beat them, all of Europe would become part of the Soviet Communist orbit.
There is nothing to celebrate here. Two brands of totalitarian socialism make a pact to divide Europe then turn on each other before the rolls are ready in the oven. The Soviets couldn't care less about the genocide of Jews or for any other peoples, even their own. Screw the Soviets and every moronic idiot that celebrates their murderous, genocidal achievements. That's where, by the way, Hitler got all of his ideas from, Karl Marx and the Soviets. KGS
Dance moron dance, till you turn into butter.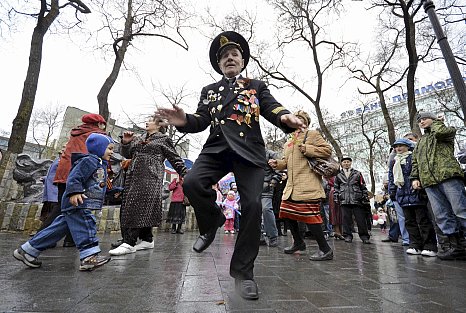 Victory Day parades held across former Soviet Union
Russian President Dmitry Medvedev (centre left) and Prime Minister Vladimir Putin (centre right) watch the Victory Day parade at the Red Square in Moscow, Russia 09 May 2011. Russian people celebrate the Victory over Nazi Germany in the WWII on May 09. EPA/MAXIM SHIPENKOV
Moscow – Russia and other former Soviet republics marked the 66th anniversary of World War II victory over Germany with military parades and memorial services.
Soldiers marched across Moscow's Red Square on Monday, following a minute of silence for the victims of the war and the sounding of bells from the Kremlin's Spassky Tower.