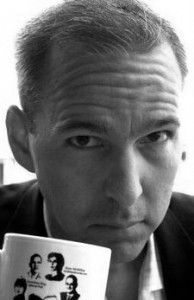 A well placed Tundra Tabloids' source informs the TT that two years ago, the National Post was invited to field a journalist to interview Geert Wilders while he was in Florida, but turned the opportunity down because the editor felt that Wilders was too low level and an extremist, and therefor not worth covering. Oh how the times have changed. KGS
Excerpt: Yet the real Geert Wilders speaks softly and thoughtfully. It turns out that he's travelled to dozens of Muslim nations. He knows more about the Islamic faith and what it means to ordinary people than do most of Islam's most ardent Western defenders. Nor do I believe that Mr. Wilders is a bigot — a least, not in the sense that the word usually is understood."
Jonathan Kay: Geert Wilders' problem with Islam
As an editor at the National Post, I often rely on three letters to protect my columnists from human-rights tribunals: I-S-M — these being the difference between spelling Islam and Islamism.
The former is a religion — like Christianity or Judaism. The latter is an ideology, which seeks to impose an intolerant fundamentalist version of Islam on all Muslims, and spread the faith throughout the world. Declaring Islamism a menace isn't controversial. Declaring Islam a menace is considered hate speech.
Geert Wilders' refusal to deploy those three letters is the reason that the 47-year-old Dutch politician travels with bodyguards, and cannot sleep in the same house two nights in a row. For Mr. Wilders, the problem plaguing Western societies is Islam, full stop. Terrorism, tyranny, the subjugation of women — these are not perversions of Islam, as he sees it, but rather its very essence.
"The word 'Islamism' suggests that there is a moderate Islam and a non-moderate Islam," he told me during an interview in Toronto on Sunday. "And I believe that this is a distinction that doesn't exist. It's like the Prime Minister of Turkey [Recep Tayyip] Erdogan, said 'There is no moderate or immoderate Islam. Islam is Islam, and that's it.' This is the Islam of the Koran."
"Now, you can certainly make a distinction among the people," he adds. "There are moderate Muslims — who are the majority in our Western societies — and non-moderate Muslims."
"But Islam itself has only one form. The totalitarian ideology contained in the Koran has no room for moderation. If you really look at what the Koran says, in fact, you could argue that 'moderate' Muslims are not Muslims at all. It tells us that if you do not act on even one verse, then you are an apostate."
Unlike most critics of Islam, who tend to shy away from the explosive subject of Mohammed himself, Mr. Wilders forthrightly describes the Muslim Prophet as a dictator, a pedophile and a warmonger. "If you study the life of Mohammed," Mr.Wilders told me, "you can see that he was a worse terrorist than Osama bin Laden ever was."