Oh do shut the hell up Paavo, you political hack!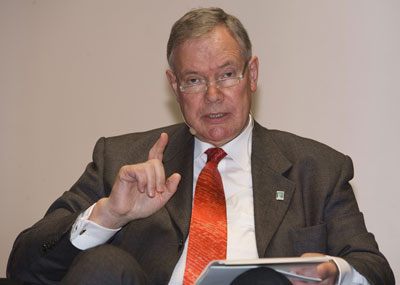 This SDP socialist sat there for years as Finland's PM, knew full well how undemocratic the EU is, and of the immense corruption in Brussels and never opened up his mouth about it. So apparently he's fine with how the EU functions as a top down political organization. KGS
NOTE: Does this moron even mention any of the points that the True Finns' Timo Soini raises concerning the skullduggery surrounding these loans? Nope, he just wants us all to shut up and let them get on with doing whatever the hell they want to do. Well screw you, you big dope!
Lipponen thundered at the Europe Day event
YLE: Paavo Lipponen took part in the ongoing conversation in Helsinki's Kamppi Square at the Europe Day event.

Former Prime Minister and the Speaker of Parliament Paavo Lipponen (SDP) has sharply criticized the European Union's lack of leadership. Lipponen participated in the discussion at the Europe Day event in Helsinki's Kamppi Square, urging Finnish political parties to take the closure of the Portuguese aid package soon to the leadership level.

Lipponen, criticized in particular the EU president, Herman Van Rompuy's activity.

– Why did we have the European Union, the so-called European Council president, if he is unable to open his mouth when European values ​​are under threat? This is reflected in the Gypsy and Romanian incident, as well as the issues that Europe has a clear right-wing extremist phenomena such as Hungary. Yes, there must be something to say about these issues to European leaders, criticized Lipponen to journalists after the event.

According to Lipponen, extreme right-wing has now entered the Finnish parliament.

– In Finland, the extreme right (TT: some elements) has settled into parliament, but there is no right-wing extremist party. This phenomenon must be insulated, and do not give up an inch, Lipponen instructed and called for "a majority to come forward."

He noted that in the 1930s the country gave no quarter to the extreme right.
NOTE: There are no fascists in parliament. This is nothing more than scare mongering by this statist puke.