Caroline Glick nails the hypocrisy and naivety and general loathing for defending US interests first, by "Team Obama", whose foreign policy seems to be headed by the likes of Samantha Power.  Obama's foreign policy team has all the necessary 'bad' ingredients for the making of disasters one after the other. Read all of Glick's article and respond in the comments. KGS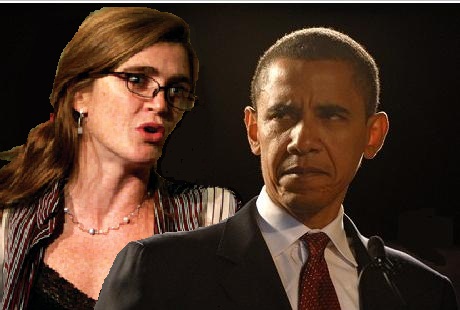 Column one: Obama's altruistic foreign policy
Due to both sides' inability to separate civilians from military targets, NATO forces are also killing their share of civilians.
[…] In deciding in favor of military intervention on the basis of a transnational legal doctrine never accepted as law by the US Congress called "responsibility to protect," President Barack Obama was reportedly swayed by the arguments of his senior national security adviser Samantha Power. Over the past 15 years, Power has fashioned herself into a celebrity policy wonk by cultivating a public persona of herself as a woman moved by the desire to prevent genocide. In a profile of Power in the current issue of the National Journal, Jacob Heilbrunn explains, "Power is not just an advocate for human rights.
She is an outspoken crusader against genocide…"
Heilbrunn writes that Power's influence over Obama and her celebrity status has made her the leader of a new US foreign policy elite. "This elite," he writes, "is united by a shared belief that American foreign policy must be fundamentally transformed from an obsession with national interests into a broader agenda that seeks justice for women and minorities, and promotes democracy whenever and wherever it can — at the point of a cruise missile if necessary."
As the prolonged slaughter in Libya and expected continued failure of the NATO mission make clear, Power and her new foreign policy elite have so far distinguished themselves mainly by their gross incompetence.
But then, even if the Libyan mission were crowned in success, it wouldn't make the moral pretentions of the US adventure there any less disingenuous. And this is not simply because the administration-backed rebels include al-Qaida fighters.
The fact is that the moral arguments used for intervening militarily on behalf of Gaddafi's opposition pale in comparison to the moral arguments for intervening in multiple conflicts where the Obama administration refuses to lift a finger. At a minimum, this moral inconsistency renders it impossible for the Obama administration to credibly embrace the mantel of moral actor on the world stage.
[…]
Apparently, the supposedly moral, anti-genocidal, pro-women Obama administration needs to be reminded why it is not merely distasteful but immoral to engage the Taliban. So here it goes.
Under the Taliban, the women and girls of Afghanistan were the most oppressed, most terrorized, most endangered group of people in the world. Women and girls were denied every single human right. They were effectively prisoners in their homes, allowed on the streets only when fully covered and escorted by a male relative.
They were denied the right to education, work and medical care. Women who failed to abide in full by these merciless rules were beaten, imprisoned, tortured, and stoned to death.
The Taliban's barbaric treatment of women and girls probably couldn't have justified their overthrow at the hands of the US military. But it certainly justified the US's refusal to even consider treating them like legitimate political actors in the 10 years since NATO forces first arrived in Afghanistan. And yet, the self-proclaimed champions of the downtrodden in the administration are doing the morally unjustifiable. They are negotiating, and so legitimizing the most diabolical sexual tyranny known to man. Obama, Clinton, Power and their colleagues are now shamelessly advancing a policy that increases the likelihood that the Taliban will again rise to power and enslave Afghanistan's women and girls once more.