In true dhimmi fashion, the Swedish lords of multiculturalism respond in drone like knee-jerk politically correct fashion, and cancel art to avoid offending the followers of the Ideology of Perpetual Outrage (IPO). This is how far it's come, self censorship in the face of totalitarianism. Great going Sweden! Just wait until Islam has real political power in the land of the Three Crowns, you haven't seen anything yet. KGS
H/T: Fjordman
UPDATE: Swedish State Radio SVT:
This weekend, asked Culture in Stockholm about a dance performance after a debate on Facebook criticized some of the content.

Celebration of woman hood is a two-day dance festival with workshops, discussions and performances, organized by föreiningen Freshest at Kulturhuset. Some of the show, which danced to a prayer from the Koran set to music, attracted attention during the rehearsal and a discussion took place on Facebook.
Koran quote stopped dance performance in Stockholm
Document.no: Fear of attack by violent Islamists are present in more and more arenas. That it has been present in the art world for a while, everyone knows that recognizes the names of Lars Vilks and Kurt Westergaard. In 2006 also led to fears that the Deutsche Opera in Berlin canceled production of Mozart's "Idomeneo," and something similar is happening again – in Stockholm.
Street Dance performance "Celebration of woman hood" was listed as a cultural center in the Swedish capital, and had already been played several times. But one of the spectators at Saturday's performance was so upset over the use of Koranic quotations in the play, he went home and did what any angry young people today: he started a discussion on Facebook. The debate got good response from the viewer's friends, and many thought that this had gotten way out of line. Some were probably also with threats of violence.
The day after Kulturhuset knew about the Facebook thread, but instead of removing the quote from the play, they chose as well to cancel the show.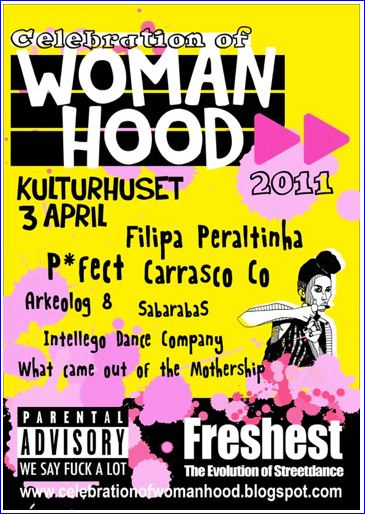 Celebration of Womanhood!
March 10th, 2011
We are so proud to be part of "Celebration of Womanhood" arranged by the Superwomen at the organization "Freshest – the evolution of streetdance".
There will be workshops, discussions of gender, role models etc and shows from different creative people and groups.
Except the names on the poster, featured people in workshops and/or panel discussions are: Apollo De Azizi, Maria "Decida" Wahlberg, Iki Gonzalez, Svante Tidholm and Dj: Pamela Leal Viñals
You don't want to miss this, come enjoy!
"Celebration of Womanhood" April 2nd & 3rd.