Revolting. A Jewish home is considered a "road block" to peace, but Arabs butchering Jews is not to be allowed to stop the "peace process". Yeah, I get it. KGS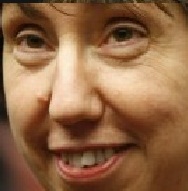 Cathorine Ashton: I can't help myself, it's from all these years of rubbing elbows with the Arabs that makes me do it.
Ashton: New Gilo housing is 'an obstacle to peace'
By JPOST.COM STAFF
04/06/2011 11:52
EU foreign minister says she is "disappointed" in Israel for approving "illegal" construction, adding: "A way must be found to resolve the status of Jerusalem as the future capital of two states."
EU Foreign Affairs Representative Catherine Ashton said on Wednesday that she is "disappointed" by the expansion of Gilo.
"I am deeply disappointed by the approval of 942 new housing units in the Israeli settlement of Gilo," Ashton said. "The EU is also closely following upcoming plans for settlements on the Mount Scopus Slopes, in Har Homa C and in Pisgat Ze'ev," all of which are neighborhoods in Jerusalem.