Thanks to Kumitonttu for the following juicy story that is not an April Fools joke. The Tundra Tabloids wouldn't be surprised if the allegations actually turned out to be true, and that she, Anni Sinnemäki, chairman for the Finnish Greens party, has a boyfriend mixed up with radicals such as these terrorists. KGS
IS: Sinnemäki's boyfriend denies terrorist allegations
Friday, 01.04.2011 at 06.57
According to the Ilta-Sanomat Anni Sinnemäki's Italian boyfriend is alleged to have been hiding terrorists by the Italian media.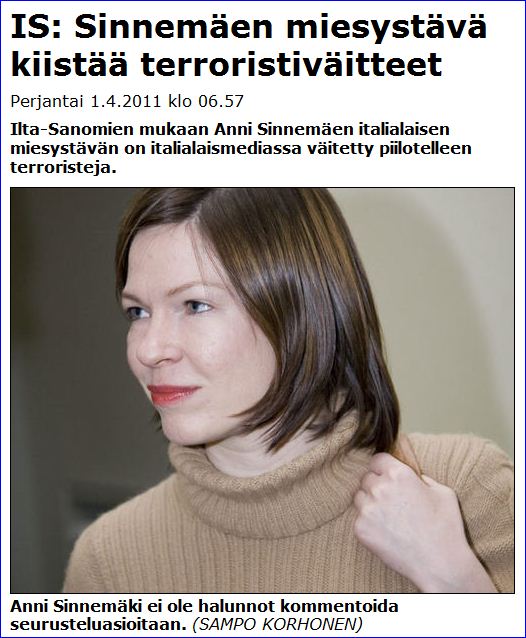 The Italian Corriere della Serra, magazine, told that the in the spring of 2003, two italian terrorists were accommodated in an apartment by a man who lived in Helsinki. Terrorists Mario Galesi and Nadia Lioc who belong to the Red Brigades group were wanted for murder.
Sinnemäki's boyfriend rejected the allegations then, eight years ago  as well as now. He says to the Ilta-Sanomat, Helsinki, that he hadn't met nor knew they were even in town.
He says they knew of the Red Brigades organization only by name. The man says that his only link in the investigation, is the fact that he has been in the past with Galesi in the same high school class.
Italian press has also argued that the police raided his apartment in 2003. Argument is baseless according to him, and the cops never even queried whether the terrorists with him.
– I have not been accused or suspected of anything, have not had any legal process, "says the man to the Ilta-Sanomat.
Anni: I know nothing, I see nothing and I hear nothing!