The politicians should have gotten the army to help the police to cordon off the entire area and slowly corner each and everyone of these morons and arrested them all, they only got 200, with massive fines and jail sentences handed out left and right for an added deterrent. Unbelievable what these idiots think that they can get away with. KGS
200 arrested as hardcore anarchists fight police long into night in Battle of Trafalgar Square after 500,000 march against the cut
By IAN GALLAGHER and GEORGE ARBUTHNOTT
Extremists hijack anti-government cuts demonstration

84 people injured – and at least 31 police officers hurt on day of violence

Ritz hotel attacked with paint and smokebombs and 1,000 occupy Fortnum & Mason


Protesters surge along Piccadilly, Regent Street and Oxford Street forcing shops to close

Lightbulbs filled with ammonia hurled at police officers

Labour leader Ed Miliband defends speech to marchers

Over 200 people were arrested as extremists brought violent chaos to central London yesterday after hijacking the much-heralded trade union protest against public spending cuts.
A massive clear-up operation was underway today after trouble continued to flare late into the night as hundreds of people clashed with officers in Trafalgar Square.
Police confirmed 201 people were in custody and there had been 84 reported injuries during the protests. At least 31 police were hurt with 11 of them requiring hospital treatment.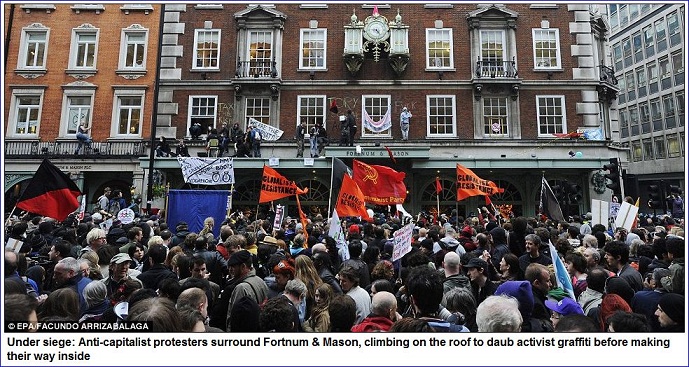 The Daily Mail has it all, amazing pictures of the mayhem.