Thanks to Aeneas for the H/T on this. Tommy Robinson is interviewed as well. KGS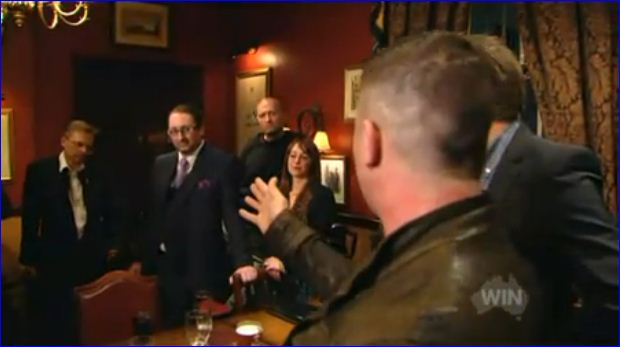 AENEAS: "The following is the 60 Minutes programme that the English Defence League participated in last Tuesday in London."
UPDATE: Vlad noticed at the 10 minute mark the interviewer stated: "is the english defence league just working class lads like yourself who are racist"??!!" and did then edited out the response. The TT receives word from someone who was there during the filming, that he said something like 'of course we are not racist'.
It's just like these journalists, (this one was rather even handed) who can't keep from constantly speaking about racism and multiculturalism, it's like they've got Tourette's syndrome.
VLAD: This is simply not acceptable. All the people present in that room, should sue.
NOTE: What irks the Tundra Tabloids most, is the misuse of the term "Multiculturalism". The Tundra Tabloids isn't buying into the meme that Australia is in fact a multicultural society. Like in the United States so in Australia, it's a "melting pot" of cultures into one identifiable culture, (E pluribus unum) "one from many", making it an unique Australian culture. It's the melting pot that produces Australia's cohesive multi-ethnic society.
The fact is, multiculturalism is the death knell to a melting pot society, it pits one culture against the other in an endless struggle. So it's high time for people to wise up to the real definitions of the terms that they are using. If one is for "Multiculturalism, they are not for assimilation which produces the multi-ethnic melting-pot society they are driving for.
An added side note for the Australianized Muslima interviewed, her kind of cultural Islam is only allowed in a insular society void of the fundamuslimists, the very kind that have proven themselves to be very successful in turning one Islamic community after the other, towards a fundamentalist view of Islam.
Sam Harris: "The problem with Islamic fundamentalism, are the fundamentals of Islam."