This is what sharia amounts to in the end.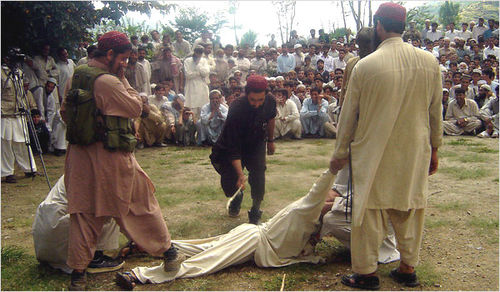 Muslim taqiyya and dawa propagandist has "sharia law" night to explain why there shouldn't be any linkage between the desert cult ideology and terrorism.
H/T Scottish Infidel
Muslims explain "Sharia Law" to Blount Co community
WBIR.Com: Wednesday night, East Tennessee Muslims openly discussed a part of their faith that has become a controversial topic in the state.

From talk radio to the state capitol, there are concerns that the "Sharia Law" is connected to terrorism.

At the meeting, local muslims held an open forum in an effort to explain their religion and dispel some fear and misunderstanding.

In front of a small crowd, Nadeem Siddiqi tried to explain "Sharia."

"I think the best thing is to create dialogue, and with dialogue is understanding," said Siddiqi.



Here's the media report of the event. The only good thing about it is that the meeting was small, and more than likely just full of the already convinced.
The Tundra Tabloids' friend and colleague, Sam Solomon, an apostate from Islam and scholar of sharia law would greatly disagree with the above propagandist. KGS