Glad to see this evil muslimah "person of color" found guilty, for holding a fellow human being in slavery. KGS
H/T: Scottish Infidel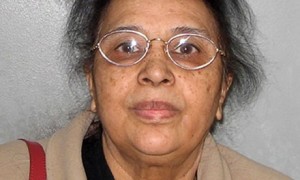 'Callous and greedy' woman convicted of slavery
(AFP) LONDON — A former hospital director who forced an African woman to work 18 hours a day became the first person in Britain to be convicted of "modern-day slavery."

Saeeda Khan, 68, was ordered to pay 49-year-old Mwanahamisi Mruke, who was trafficked from Tanzania in 2006, 25,000 pounds.

She was spared a prison sentence, but Judge Geoffrey Rivlin said this was due to her own ill health and the fact she has two adult disabled children.

"You could easily have afforded to pay her a reasonable sum by way of wages," said Rivlin during sentencing at London's Southwark Crown Court.

"You chose to give her virtually nothing.

"Your own behaviour was callous and greedy," the judge added.

Mruke was initially paid 10 pounds per week, but this allowance was stopped within a year.

Khan, who was found guilty of trafficking a person into the UK for exploitation, forbade Mruke from leaving the house in Harrow, north west London, and fed her two slices of bread a day.