Film actress Susan Sarandon has a net worth of over $50 million dollars, yet she craftily casts herself as one of the "masses" in her socialist rant against the Wisconsin governor. Talk about nerve, the Democrats are always positioning themselves as being for "the little guy" all the while their policies crush them, the shopkeepers, the small business owners and middle America in general.
It would surprise many to know that the Democrat party benefits more from Wall Street donations, (especially those businesses engaged in crony capitalism, meaning the kind that sucks on the gov't teat when things go sour for them) than Republicans. Nice try moron, you've benefited from the capitalist system, the very same system you and your pals are trying to destroy. Think scorpion and frog. KGS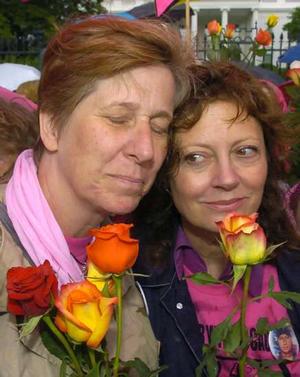 Socialist twins sisters: Mama Moonbat and Sarandon
Sarandon's rant of interest starts around the 3:25 mark: And it's a great opportunity that this idiot [WI Governor Scott] Walker has given us to remember our strength and to remember that we are the many and they are the few; and even though they have the wealth, we have something which is as important if not more important. And so I came just to say thank you.
H/T: Breitbart